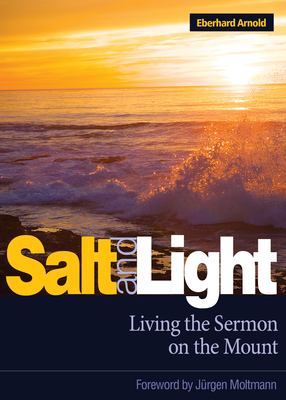 Salt and Light (Paperback)
Plough Publishing House, 9780874860993, 181pp.
Publication Date: February 1, 1998
* Individual store prices may vary.
Description
In the Sermon on the Mount, Jesus puts aside his usual parables and speaks plainly in language anyone can understand. Like Francis of Assisi and others, Arnold chose to live out Jesus' teachings by embracing their self- sacrificing demands. In this collection of talks and essays, he calls us to live for the Sermon's ultimate goal: the overturning of the prevailing order of injustice. In its place, Arnold writes, we must build up a just, peaceable society motivated by love.
Praise For Salt and Light…
Thomas Merton

Salt and Light has all the simple, luminous, direct vision into things that I have come to associate with Eberhard Arnold. It moves me deeply. It is the kind of book that stirs to repentance and to renewal. I am very grateful for it.


Jürgen Moltmann, from the Foreword

Arnold's writings are a light of hope in an age which seems very dark. May they no longer remain "hidden under a bushel," but shine out to be heeded by many.


Pitirim A. Sorokin, Harvard University

An admirable, excellent book needed by a world which has turned against the Great Teaching of Jesus.