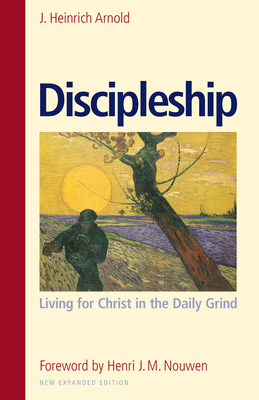 Discipleship (Paperback)
Plough Publishing House, 9780874868760, 297pp.
Publication Date: December 1, 2013
* Individual store prices may vary.
Description
Arnold guides readers toward leading Christ-like lives amid the stress and strain of modern life. Perhaps the hardest thing about following Christ is translating our good intentions into deeds. Christ calls us, and we yearn to answer him, but time and again we lose resolve. Is discipleship really possible today? Many of the selections in this book offer answers to specific needs or problems. Others grapple with broader themes such as world suffering, salvation, and the coming of the kingdom of God. All of them pulsate with conviction and compassion, giving fresh hope to those who find themselves lonely or disheartened in the daily search to follow Christ. J. Heinrich Arnold served for many years as elder of the Bruderhof, a Christian communal movement. Discipleship contains writings, letters, and talks from his forty years of service as pastor, marriage counselor, educator, and parent.
Praise For Discipleship…
Sr. Helen Prejean, author

Discipleship is not simply a book. It is a cry from the heart of a man passionately alive for God.


Henri J. M. Nouwen

A tough, prophetic book in a time in which few people dare to speak unpopular but truly healing words.

Elisabeth Elliot, author

Impressive…Arnold is thoroughly scriptural and very practical. This book is right down my alley.


Dale Aukerman, author

Masterful…Arnold writes that "the greatest gift is a burning love to Christ." That love pervades this book.