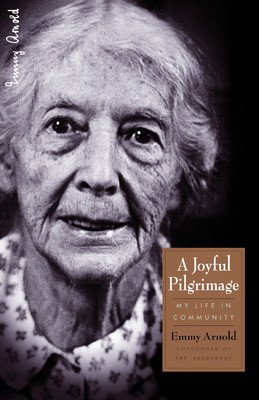 A Joyful Pilgrimage (Bruderhof History) (Paperback)
Plough Publishing House, 9780874869569, 176pp.
Publication Date: October 24, 1998
* Individual store prices may vary.
Description
In the tumultuous aftermath of the First World War, thousands of young Germans defied the social mores of their parents - and the constricting influence of the established churches - in search of freedom, social equality, nature, and community. Hiking clubs were formed and work camps organized, and hundreds of rural folk schools and communes sprang up across the country. In the 1930s, Nazism swallowed this so-called Youth Movement virtually whole.

A Joyful Pilgrimage is the engaging story of a remnant that survived: the Bruderhof, a 75-year-old community that began when the author and her husband, a well-known writer and lecturer, abandoned their affluent Berlin suburb to start a new life and "venture of faith."

At first glance a memoir, A Joyful Pilgrimage is a radical call to faith and commitment against great odds. It is also a remarkable testimony to the leading of the Spirit, which, as Emmy Arnold writes, can hold together those who believe in the "daily miracle" of community "through thick and thin."

The Bruderhof History series is a collection of books providing first-hand accounts and other primary sources on the founding and development of the Bruderhof movement.
About the Author
Emmy Arnold (1884-1980) was born in Riga, Latvia, to a prominent family of academics. As an adult she turned her back on the middle-class milieu of her upbringing and married Eberhard Arnold, a revolutionary public speaker. In 1920 the couple left their Berlin home and founded a rural commune in the village of Sannerz that still exists in the form of the Bruderhof, a communal movement in the northeastern U.S.
Praise For A Joyful Pilgrimage (Bruderhof History)…
Clarence Jordan, author

A moving story…and an amazing continuation of the Book of Acts.


Thomas Merton

Very moving…Emmy Arnold's story is a simple and direct account of a Christian life stripped to the essentials.