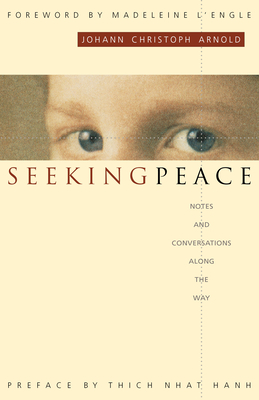 Seeking Peace (Paperback)
Notes and Conversations Along the Way
Plough Publishing House, 9780874869637, 237pp.
Publication Date: February 20, 2013
* Individual store prices may vary.
Description
Where can we find peace of heart and mind--with ourselves, with others, and with God? Arnold says most people are looking in the wrong direction. In a culture that bombards us with feel-good-about-yourself spirituality, Seeking Peace is sure to satisfy a deep hunger. There is a peace greater than self-fulfilment, a peace greater than nations no longer at war. But it will demand a relentless pursuit kept up only by hope and courage, vision and commitment. Seeking Peace explores many facets of humankind's ageless search for peace. It plumbs a wealth of spiritual traditions and draws on the wisdom of some exceptional (and some very ordinary) people who have found peace in surprising places. Independent Publisher Book Award winner Foreword Magazine Book of the Year
Praise For Seeking Peace: Notes and Conversations Along the Way…
Thomas Howard, St. John's Seminary

This is a gem. The candor, simplicity, and humanity of the whole text, and especially of the anecdotes, should recommend it to an exceedingly wide reading public.


John C. Dwyer, St. Bernard's Institute

There is a lifetime's material for meditation in this book. It deserves to become a classic.


Bernard Häring, author, Virtues of an Authentic Life

Outstanding…A thoughtful and attractive vision of a truly dedicated Christian life.

David Steindl-Rast, Mount Saviour Monastery

Arnold speaks out of a living tradition…There is living water here for gasping fish.


Jonathan Kozol, author, Amazing Grace

Arnold writes in the tradition of the Berrigans, of Simone Weil and Thomas Merton.