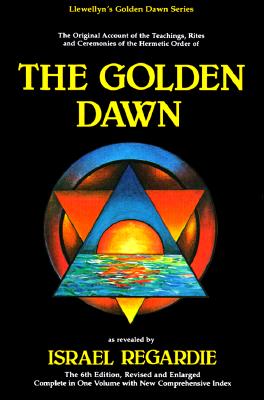 Golden Dawn
A Complete Course in Practical Ceremonial Magic: Four Volumes in One
Paperback

* Individual store prices may vary.
Description
"The Golden Dawn" by Israel Regardie is considered by many to be the book that started the modern occult movement. The original Hermetic Order of the Golden Dawn, which started in the late 1800s, borrowed from a wide variety of occult traditions o Kabalah, Tarot, Geomancy, Enochian Magic, Theosophy, Freemasonry, Paganism, Astrology, and many more o and created a unique and viable system of magic that is still being practiced today. Almost every contemporary occult writer and modern group has been influenced, directly or indirectly, by the Order or its members, making The Golden Dawn one of the most influential occult books of the past 100 years.
The book is divided into several basic sections. First are the knowledge lectures, where you will learn the basics of the Kabalah, symbolism, meditation, geomancy and more. This is followed by the rituals of the Outer Order, consisting of five initiation rituals into the degrees of the Golden Dawn.
The next section covers the rituals of the Inner Order including two initiation rituals, equinox ceremonies, and more. Then you will learn the basic rituals of magic and the construction, consecration, and means of using the magical tools. Once you have these you can go on to evocation rituals, talismans, and invocations.
The book gives explanations for how to design talismans, do skrying and travel on the astral plane. You will also learn geomancy, the Tarot, and Enochian magic.
Filled with numerous illustrations, lists, and tables, "The Golden Dawn" provides guidance for a lifetime of magic and life-changing transformation. Get your copy today.

Llewellyn Publications, 9780875426631, 807pp.
Publication Date: September 8, 2002
About the Author
Francis I. Regardie, born in London, England, November 17, 1907; died in Sedona, Arizona, March 10, 1985.  Came to the United States in August 1921, educated in Washington D.C. and studied art in school in Washington and Philadelphia.  Returned to Europe in 1928 at the invitation of Aleister Crowley to work as his secretary and study with him.  Returned to London as secretary to Thomas Burke 1932-34, and during that time wrote "A Garden of Pomegranates" and "The Tree of Life."

In 1934 he was invited to join the Order of the Golden Dawn, Stella Matutina Temple, during which time he wrote "The Middle Pillar" and "The Art of True Healing," and did the basic work for "The Philosopher's Stone."

Returning to the United States in 1937 he entered Chiropractic College in New York, Graduating in 1941, and published "The Golden Dawn.  Served in the U.S. Army 1942-1945, and then moved to Los Angeles where he opened a chiropractic practice and taught psychiatry.  Upon retirement in 1981, he moved to Sedona.

During his lifetime, he studied psychoanalysis with Dr. E. Clegg and Dr. J. L. Bendit, and later studied psychotherapy under Dr. Nandor Fodor.  His training encompassed Freudian, Jungian and Reichian methods.
or
Not Currently Available for Direct Purchase