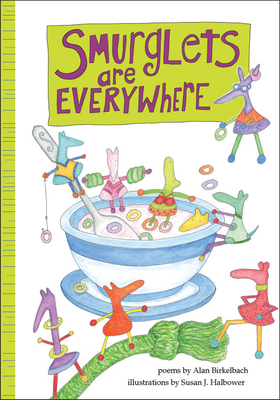 Smurglets Are Everywhere (Hardcover)
Texas Christian University Press, 9780875654157, 48pp.
Publication Date: August 16, 2010
* Individual store prices may vary.
Description
What are Smurglets? Why, Smurglets are little creatures that make friends instantly, enjoy dressing up—and love to hide! Where do you find Smurglets? They're everywhere!

Every page of this fun-filled poetry book is bursting with delight for kids and adults alike. Texas Poet Laureate Alan Birkelbach tells you not only where Smurglets come from, but using captivating rhythms, goofy rhymes, and wonderfully made-up words he tells readers from ages 5 to 50 why Ogres Hate Okra, about what happens when Blob Junior Goes to Camp, and the dire consequences of losing your Galoopa! It's all wild and wacky!
Delightfully illustrated by prize-winning artist Susan Halbower, kids will return again and again to read about, and marvel at, Giggleville, Komodos, and Weldon Wing (The Armpit King!), not to mention all the other creatures and crazy situations.

Here's a goofy excerpt from the poem "What's on the Menu":

The wicked witch's house next door
was made of gingerbread.
Since people don't eat sweets as much
she used lunch meat instead.

What happens next? You'll have to read to find out!

Parents will be reminded of the fun poems they grew up with, the poems they would memorize and then recite again and again. The topics include pizza and dinosaurs and anacondas—plus, wherever you look there's a Smurglet! While the book might be targeted for 5 to 12 year-olds, everyone who is a child at heart will find something to enjoy.

Teachers will discover this is the new book they have been searching for at story-time and for teaching about poetry. It's playful, entertaining, easy to read, and easy to memorize. Not too hard to understand, not too grown-up, and not too many pages—it's the perfect book to get kids to read (and make them giggle.)

Smurglets are Everywhere! And soon you'll see why!
About the Author
ALAN BIRKELBACH has been writing poetry since he was twelve years old. In fact, his first poem ever was about his pet raccoon!
Since then he has written thousands of poems, mostly about Texas, its towns, its history, and its geography. His work has appeared in journals and anthologies such as Grasslands Review, Borderlands, The Langdon Review, and Concho River Review. He has received a Fellowship Grant from the Writer's League of Texas, been named as one of the Distinguished Poets of Dallas, was nominated for a Wrangler Award for his contributions to Southwest Letters, and is a member of The Academy of American Poets. He has five collections of poetry: Bone Song, Weighed in the Balances, No Boundaries, New and Selected Poems (the first in the TCU Texas Poet Laureate Series from TCU Press), and Translating the Prairie: Plano, Texas in Words and Pictures.
In 2005 Birkelbach was named the poet laureate of Texas.

SUSAN J. HALBOWER has a degree in art from Kenyon College, but she learned to watercolor making books for her three young nephews.  From that came a line of cards and stationery, bow wow CARDS, and various design commissions ranging from t-shirts to invitations.
She was delighted to have the opportunity to illustrate Alan Birkelbach's vivid poems, and thanks the many smurglets who guided her in this project, and continue to surprise her.
 
Praise For Smurglets Are Everywhere…
"Many of the words are made up which is fun and playful…some of my poetry-loving kids will enjoy it."
— Jaime LeRoy
"Lovers of all books by Doctor Seuss will want to get a copy of Smurglets are Everywhere."
— Fiction columnist
or
Not Currently Available for Direct Purchase