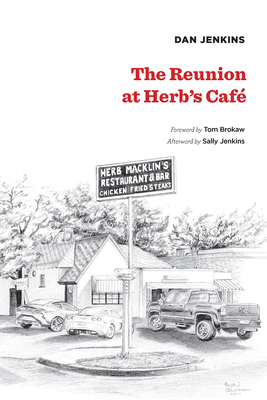 The Reunion at Herb's Cafe (Hardcover)
Texas Christian University Press, 9780875657271, 128pp.
Publication Date: November 11, 2019
* Individual store prices may vary.
Description
And what a reunion it is! Dan Jenkins reunites many of the most memorable and irascible characters from his most memorable and hilarious novels—starting with Semi-Tough. Billy Clyde Puckett, Shake Tiller, T. J. Lambert, Barbara Jane Bookman, Big Ed Bookman, Slick Henderson, Juanita Hutchins, Doris Steadman—the list goes on, and they're all packin' heat. It all begins when Herb's Café—modeled after a Fort Worth landmark renowned for its chicken-fried steak—goes up for sale after Herb's death and the establishment's disastrous sequel as a trendy restaurant featuring outrageous nouvelle cuisine. Tommy Earl Bruner buys the place, rehires most of the old staff, and invites all its former denizens to Fort Worth for a grand celebration. The uproarious outcome could only have been dreamed up by comic mastermind Dan Jenkins.
This is a special commemorative edition of Dan Jenkins's last novel, including a foreword by Tom Brokaw and an afterword by Sally Jenkins.
About the Author
DAN JENKINS was an award-winning sportswriter and best-selling novelist whose career spanned seven decades. He was the author of twenty-five books—thirteen novels and twelve works of nonfiction. After fifteen years writing for newspapers in Fort Worth and Dallas, Jenkins became nationally known for his stories in Sports Illustrated over a period of twenty-five years, for his stints as a sports columnist for Playboy, and for his essays, features, and tweets for Golf Digest.