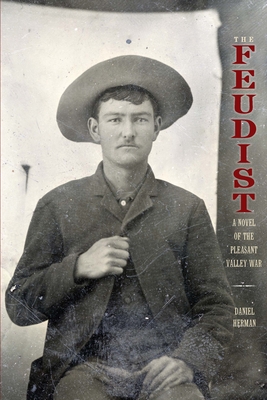 The Feudist (Paperback)
A Novel of the Pleasant Valley War
Texas Christian University Press, 9780875657479, 256pp.
Publication Date: June 26, 2020
* Individual store prices may vary.
Description
The Feudist: A Novel of the Pleasant Valley War is both a traditional Western—tense, authentic, fast-paced—and an anti-Western that tells the story of what was perhaps the bloodiest range war in US history, Arizona's 1880s Pleasant Valley War. The narrator—a small-time rancher named Ben Holcomb who reflects back on his adolescent experiences—begins the story as a stockboy in Globe City, Arizona. Bored with his job, he agrees to become an apprentice cowboy. His journey to his employer's ranch leads him into a smoldering range war. Over the next year, he rides with a charismatic trickster; a Texas "colonel" and his idealist daughter; a polygamous Mormon elder with a teenaged wife; and a winsome, mixed-race cowboy who is deeply embroiled in the feud. Though Ben tries to stay out of the quarreling, he finds himself embroiled as he stumbles through passionate love, devastating loss, and moral uncertainty. Herman's attention to historical forces, his spare style, his self-deprecating narrator, and his authentic characters give the novel a verisimilitude that transcends the genre Western and far surpasses Zane Grey's 1922 romance about the Pleasant Valley War, To the Last Man.
About the Author
DANIEL HERMAN is professor of history at Central Washington University. His historical monographs have garnered multiple prizes, including the Charles Redd Center-Phi Alpha Theta Book Award in Western History and the Labriola Center American Indian National Book Award. The Feudist is his first essay into fiction. Herman lives in Ellensburg, Washington, with his wife, Margareta, and daughter, Persia.