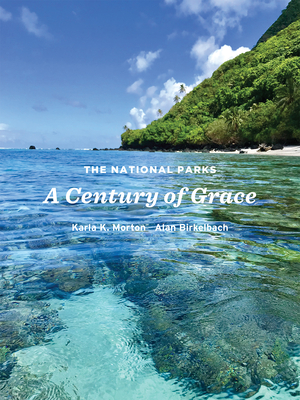 The National Parks
A Century of Grace
Hardcover

* Individual store prices may vary.
Description
Poets Karla K. Morton and Alan Birkelbach began this journey to celebrate our national parks' one hundredth anniversary, but for these two poets the sojourns quickly became something greater than that. In their words, "As humans we have this tendency to look at a piece of land and see real estate. [But] when concrete covers all our natural spaces, not only do we lose earth's creatures, we also lose the great teacher of our souls. You cannot sit beneath trees taller than the Statue of Liberty, or gaze upon vistas untouched since their creation, without feeling the awe and wonder of what the natural world has to offer. You cannot experience such beauty without being wholly changed. Our great-great-great-grandchildren deserve these untouched gifts."
This journey, illustrated with gorgeous color photos of all of America's grand national parks, is a feast for the eyes and heart. In the end, it is a plea for us to save these wonders for all future generations.
Texas Christian University Press, 9780875657639, 320pp.
Publication Date: December 29, 2020
About the Author
Award-winning 2010 Texas Poet Laureate KARLA K. MORTON has twelve poetry collections. A national Wrangler Award winner, twice an Indie National Book Award winner, a Betsy Colquitt Award winner, and an E2C Grant recipient, Morton is widely published. She is a member of the Texas Institute of Letters and Academy of American Poets. ALAN BIRKELBACH, a Texas native and author of eleven poetry books, is the 2005 Texas Poet Laureate. He is a member of the Texas Institute of Letters and Academy of American Poets. Twice an Indie Book Award finalist, he is also a winner of a Spur Award for Best Western Poem from the prestigious Western Writers of America.