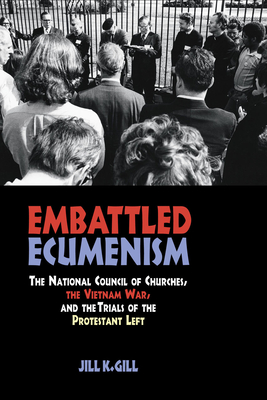 Embattled Ecumenism (Hardcover)
The National Council of Churches, the Vietnam War, and the Trials of the Protestant Left
Northern Illinois University Press, 9780875804439, 563pp.
Publication Date: September 1, 2011
* Individual store prices may vary.
Description
The Vietnam War and its polarizing era challenged, splintered, and changed The National Council of the Churches of Christ in the U.S.A. (NCC), which was motivated by its ecumenical Christian vision to oppose that war and unify people. The NCC's efforts on the war exposed its strengths and imploded its weaknesses in ways instructive for religious institutions that bring their faith into politics. Embattled Ecumenism explores the ecumenical vision, anti-Vietnam War efforts, and legacy of the NCC. Gill's monumental study serves as a window into the mainline Protestant
manner of engaging political issues at a unique time of national crisis and religious transformation. In vibrant prose, Gill illuminates an ecumenical institution, vision, and movement that has been largely misrepresented by the religious right, dismissed by the secular left, misunderstood by
laity, and ignored by scholars outside of ecumenical circles.
At a time when the majority of scholarly work is committed to looking at the religious right, Gill's groundbreaking study of the Protestant Left is a welcome addition. Embattled Ecumenism will appeal to scholars of U.S. religion, politics, and culture, as well as historians of evangelicalism and general readers interested in U.S. history and religion.
 
About the Author
Jill K. Gill is Associate Professor and Graduate Coordinator in the Department of History at Boise State University.
 
Praise For Embattled Ecumenism: The National Council of Churches, the Vietnam War, and the Trials of the Protestant Left…
"Embattled Ecumenism is a creative and scintillating read, its subject matter fascinating and timely. gill's writing exhibits all the best traits of good history: crisp narrative based on sound analysis of a wide range of rich primary sources. The result is a sympathetic but not uncritical rendering of a powerful organization and its earnest devotees." Darren Dochuk, Associate professor of History at purdue University and author of From Bible Belt to Sunbelt: Plain Folk Religion, Grassroots Politics, and the Rise of the Evangelical Conservatism
"This book makes a significant contribution to the history of American religion. I am not aware of any work quite like it, and it stands as a unique approach to issues of ecumenism and the Vietnam War." Mitchell k. Hall, professor of History at Central Michigan University and author of "The Vietnam War"

"This welcome new book provides a study of the National Council of the Churches of Christ in the U.S.A. (NCCC) as it tackled issues connected with the Vietnam War. . . . Underlying the demise of the authentic ecumenism in the NCCC and the substitution of political and social action was a contested understanding of the meaning of ecumenism itself."—Journal of Ecumenical Studies
 "Gill's book is a strikingly readable work of scholarship that resounds with relevance in today's America, where the evangelical Christian right has tremendous influence in politics and culture. Readers with an interest in American religious history, the Vietnam era, or the Johnson and Nixon presidencies would find Embattled Ecumenism worthy of their time."—Idaho Statesman