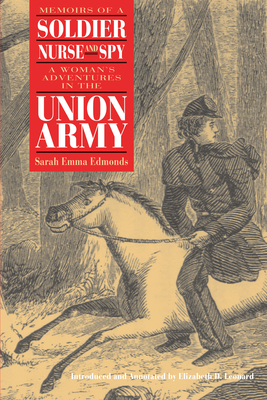 Memoirs of a Soldier, Nurse, and Spy (Paperback)
A Woman's Adventures in the Union Army
Northern Illinois University Press, 9780875805849, 294pp.
Publication Date: September 22, 1999
* Individual store prices may vary.
Description
Among the hundreds of women who, in disguise, enlisted to serve as men during the Civil War, only Sarah Edmonds is known to have written a memoir recounting her experiences. As "Franklin Thompson," she joined the 2nd Michigan Infantry Regiment in 1861, then fought in some of the bloodiest struggles of the Civil War, from the first battle of Bull Run to the Kentucky Campaign of 1863.

This daring woman embarked upon dangerous missions into Confederate territory to gather information and to survey enemy positions, sometimes in the guise of a slave or Irish washerwoman, sometimes in Confederate uniform. Through her experiences as a "male nurse" and Union soldier, Edmonds depicts the horrors of Civil War hospitals and the simple pastimes of camp life. Throughout her impassioned account, first published in 1865, this enthralling storyteller reveals her courage, dedication to the Union, and resourcefulness in concealing her identity.

Three years after her death, Edmonds's body was reinterred with military honors by her comrades, who recognized in her a "strong, healthy, and robust soldier, ever willing and ready for duty." The introduction and annotations by Elizabeth D. Leonard, a leading authority on Civil War women, support and amplify Edmonds's account. Challenging established views of the Civil War soldier, Memoirs of a Soldier, Nurse, and Spy is compelling reading, especially for those interested in the Civil War, women's history, American studies, and military history.
Praise For Memoirs of a Soldier, Nurse, and Spy: A Woman's Adventures in the Union Army…
"An extraordinary story for any war's retelling.... Elizabeth Leonard, the leading authority on women in the Civil War armies, has provided excellent editorial notes and has pieced Edmonds's story together in admirable fashion."—The Historian
"Fascinating.... Sarah Edmonds's memoir is not to be missed."—Michigan Historical Review
"Great fun to read."—Civil War Courier