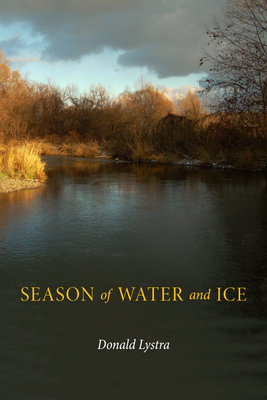 Season of Water and Ice (Paperback)
Switchgrass Books, 9780875806280, 240pp.
Publication Date: October 1, 2009
* Individual store prices may vary.
Description
Set in 1957 in rural northern Michigan, Season of Water and Ice is the story of a pivotal few months in the life of young teen Danny DeWitt, who lives alone with his father following the sudden departure of his mother. Bookish and relatively friendless, Danny becomes acquainted with Amber, a pregnant teenager abandoned by her boyfriend and rejected by her family. Both outsiders—one because of disposition, the other because of social stigma—Danny and Amber form an unusual, openhearted alliance that helps each deal with their separate challenges.

Their friendship is tested when Amber's abusive boyfriend returns and Danny's mother withdraws more permanently from her family, leading eventually to a crisis that threatens Amber and her unborn child, as well as Danny's concept of love and manhood.

Danny struggles to understand himself and the confusing and, at times, frightening world in which he lives. His analytically oriented mind attempts to make sense of the rigid stereotypes of the 1950s, revealing startling truths about the abiding issues of love and family and the dangers to which these ideals are continually exposed.

Danny straddles the uncertain gap between childhood and adulthood in this novel that is underscored by themes of independence and obligation, love and sexuality, courage and surrender. This realistic work will appeal to both adult and young adult readers.
About the Author
Donald Lystra'sstories have appeared in many publications, and his work has received Special Mention in the Pushcart Prize anthology. He is a recipient of writing fellowships from the National Endowment for the Arts and the MacDowell Colony. A retired consulting engineer, Mr. Lystra and his wife divide their time between Ann Arbor and a farm in northern Michigan. This is his first novel."
Praise For Season of Water and Ice…
"Season of Water and Ice has a heart big enough to be toh gentle and unflinching, a masterly story powered by a young narrator uniquely wise and blinded. Read this wonderful book, fall into it, and it will change you."—Nick Arvin, author of Articles of War
"A poignant coming-of-age story told in vivid language evoking both the time period and the particular Northern Michigan setting."—Shaun Manning, founding editor of From Glasgow to Saturn, a literary e-magazine
"Let's not mistake Season of Water and Ice for a typical coming-of-age novel. Its voice is too rich, its pacing too measured and elegant, its ending too richly sad. Donaly Lystra has written a fierce and tender debut novel about the unreliability of love."—John Dalton, author of Heaven Lake
"The prose style is plain, clear, and even Hemingwayesque. Season of Water and Ice is a northwoods odyssey into manhood that is timeless and true."—John H. Smolens, Northern Michigan University
 
"[A] soulful debut novel. The story effectively captures the uncertainty of adolescence, and Lystra's graceful prose is evolcative of place and time. A rich and satisfying read."—The Cleveland Plain Dealer
"Destined to become a classic coming of age story. Lystra's style is spare and direct and yet profoundly evocative in a way seldom realized by today's writers. An absolutely stunning debut."—The Pioneer
or
Not Currently Available for Direct Purchase