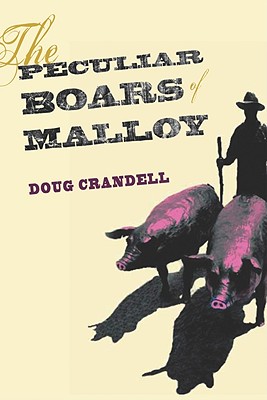 The Peculiar Boars of Malloy (Paperback)
Switchgrass Books, 9780875806334, 215pp.
Publication Date: June 10, 2010
* Individual store prices may vary.
Description
This Sherwood Anderson-award winning farcical novel follows two teenage boys living on a farm in rural Indiana. Their father—a diminutive man and the laughingstock of their small town—purchases two boars in an attempt to impress his neighbors and demonstrate, by proxy, his masculinity. The boars, however, turn out to be resolutely gay and deeply committed to each other, setting off a ridiculous chain of events that brings the spotlight and accompanying media circus to Malloy.

In the midst of all of the madness is the boys' ongoing, and at once heartbreaking and hilarious, quest to find their wayward mother through a series of touching and humorous flashbacks. Disappointed in their pitiful father, the boys cling to an unrealistic fantasy of their mother, who is in actuality a promiscuous drifter.

Crandell's depiction of the gay boars provides much of the book's humor and, unexpectedly, its moral compass as he weaves significant and subtly articulated themes of animal rights and gay rights. The Peculiar Boars of Malloy captures the best traditions of American satire, while turning the conventions of the coming-of-age novel on its head. Crandell's heart and humor will be appreciated by lovers of satire and animals and those readers possessed of a uniquely Midwestern sense of the ridiculous.
About the Author
Doug Crandell is the critically acclaimed author of two novels, two memoirs, and one true crime book. Crandell was named Georgia Author of the Year in 2008 by the Georgia Writers Association and was a 2007 Barnes & Noble Discover Great New Writers Pick. Originally from Indiana, he now lives in Douglasville, Georgia.
Praise For The Peculiar Boars of Malloy…
"I'm a big fan of Doug Crandell's book Pig Boy's Wicked Bird and so was looking forward to reading The Peculiar Boars of Malloy. Like Pig Boy, this book has a unique sense of place and the writing is characterized by a sharp wit. It's a rural comedy in the tradition of rural comedies—perhaps even of Restoration comedies—without the wealthy people. It has that same sense of the absurd."—Susan Neville, author of In the House of Blue Lights and Invention of Flight
"Simply put, this is a wholly readable, enjoyable novel. It manages both suspense and satire, blending social commentary and the emotional weight that must accompany such commentaries."—Dean Bakopoulos, author of Please Don't Come Back from the Moon
"Crandell tells a lyrical, preposterous tale of Midwestern farm life, interweaving the coming of age of a farm boy with a lunatic father who raises pigs and a subplot about the invasion of TV news and the media's distortions of nature, value, and truth. His comic vision is reminiscent of Carolyn Chute's. While the grotesque pervades Crandell's version of pastoral, life itself is celebrated."— DeWitt Henry, Ploughshares