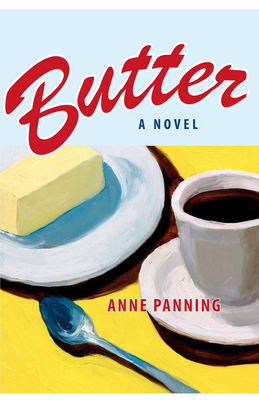 Butter (Paperback)
A Novel
Northern Illinois University Press, 9780875806815, 264pp.
Publication Date: October 15, 2012
* Individual store prices may vary.
Description
Anne Panning's fiction has been described as warm and original by Publishers Weekly, intelligent and humorous by the Boston Globe, graceful and wry by Booklist, and infectious and enchanting by the New York Times. In fact, Panning's last collection of short stories, Super America, was a New York Times Book Review Editor's Choice. Enter this exciting new novel, the best work yet from a writer whose astute observations of American life are as honest as they are engaging.
Butter is a coming of age tale set against the backdrop of small-town Minnesota during the 1970s and told from the perspective of an eleven-year-old girl, Iris, who learns from her parents that she is adopted. The story of Iris's childhood is at first beguiling and innocent: hers is a world filled with bell-bottoms and Barbie dolls, Shrinky Dinks and Shaun Cassidy records, TV dinners and trips to grandma's. But as her parents' marriage starts to unravel, Iris grows more and more observant of disintegration all around her, and the simple cadences of her story quickly attain an unnerving tension as she wavers precariously between girlhood and adolescence. In the end, Iris's story represents a profound meditation on growing up estranged in small town America—on being an outsider in a world increasingly averse to them.
Passionate, lyrical, and disquieting, this intensely moving novel is a rich exploration of a crucial theme in American literature that will confirm Anne Panning's place as a major figure in the world of contemporary fiction.
About the Author
Anne Panning is professor of English at the College at Brockport, State University of New York. She is the author of two critically acclaimed short story collections, The Price of Eggs and Super America.
Praise For Butter: A Novel…
"It's small-town Minnesota in the 1970s, and 11-year-old Iris' family is collapsing. At first, life is stable: her father runs the town creamery, her mother works from home, and she has all the trappings befitting a relatively privileged child of the decade, including her very own Barbie Beauty Shop. But when her parents tell her she's adopted, and then adopt a troubled older boy (following two miscarriages), her idyllic world cracks apart. Before long, Iris is shuffled between her separated parents and is forced to endure embarrassing gossip about her mother's new boyfriends. As Iris navigates the delicate transition from girlhood to adolescence, she does so against the backdrop of a splintered 1970s America, as chains push out mom-and-pop stores (the fate of her father's creamery), and divorce rates boom. The residents of her small town, however, aren't comfortable with "complicated" families, and Iris suffers as a result of their collective judgment. Panning's meditation on coming-of-age is so passionately wrought and richly detailed that, if readers didn't know better, they might think this was the authentic stuff of memoir."—Booklist