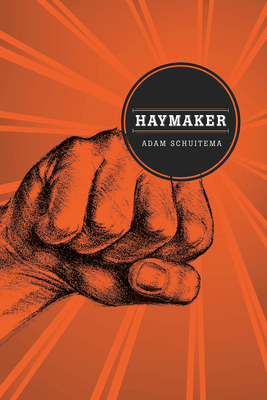 Haymaker (Paperback)
Switchgrass Books, 9780875807195, 300pp.
Publication Date: April 15, 2015
* Individual store prices may vary.
Description
In a political culture infused with debates about personal liberties, the role of government, and even the definition of "freedom" itself, Haymaker tells the story of an isolated Michigan town that becomes the flashpoint for some of the principal ideological debates of our day. When a libertarian organization selects the town as its flagship community, hundreds of its members migrate and settle within the town's borders. The resulting clash with local townspeople is violent and impassioned, even as the line that divides the two sides increasingly blurs.

The story follows characters on both of these sides: an eccentric millionaire known as The Man in White, who is still viewed as an outsider even after living in Haymaker for thirty years; a policewoman trained in hostage and suicide negotiations who questions raising children in this new environment; a teenage girl devoted to basketball and her desire to leave home, who has a close but complicated relationship with her uncle, a local who fistfights outsiders in an annual challenge; a libertarian PR expert, just hoping to calm the storm; and the town's mayor, who owns a local diner and is raising a baby daughter as her husband becomes tragically unhinged.

A town first settled by lumberjacks, prostitutes, and roughnecks, Haymaker's present becomes as volatile as its past. Haymaker is a story about the failure of best intentions and the personal freedom of individuals to do good or to harm. This witty and politically charged novel will certainly appeal to Michiganders and Midwesterners, but will also interest those looking for an entertaining fictional account of a situation that could plausibly play out in one of the many small, remote towns in the country.
About the Author
Adam Schuitema is the author of the short story collection Freshwater Boys, and his stories have appeared in numerous journals, including Glimmer Train, North American Review, Indiana Review, TriQuarterly, Black Warrior Review, and Crazyhorse. Adam earned his MFA and PhD from Western Michigan University, is an associate professor of English at Kendall College of Art and Design, and lives in Grand Rapids, Michigan, with his wife and daughter.
Praise For Haymaker…
"Adam Schuitema has followed his impressive collection, Freshwater Boys, with Haymaker, a novel in which the virtues of Schuitema's debut collection are on display—the lucid prose, memorable characters, and a stunning sense of place, all married to the novel's richly inventive twists and turns."
—Stuart Dybek, author of Paper Lantern and Ecstatic Cahoots

"Haymaker is as dazzling and overpowering as a Michigan winter and a powerful debut into the world of novel writing."
—Rain Taxi

"With Haymaker, Adam Schuitema has created his Winesburg, Ohio for a new generation: his writing is rich and succulent, painting a portrait of a place I wanted desperately to be real. Smart and topical, Schuitema's charmed world so deftly works its magic from the very first page, making us deliberate on this place, dream of it—a city populated by figments we recognize in ourselves, in those we've known. And like the title suggests, we're knocked back by the sheer magnitude of what he's done—of all that he's created, of all that he asks us to ponder—unable to leave its borders, wanting to join its citizens on the page."
—Robert James Russell, author of Don't Ask Me to Spell It Out and Sea of Trees

"Haymaker is an entertaining book for people who like a little politics in their fiction."
—National Review

"Thoughtful fiction with an unusual political twist on the theme of insiders vs. outsiders."
—Kirkus Reviews
 "Schuitema has crafted a description of contemporary small-town life that is easily transferred anywhere in the United States. . . . A flat-out good read."
—Foreword Reviews

"A read to pair with classic works of Paine, maybe a bit of Orwell and most certainly with Rand, Schuitema's first novel resonates as a real-life American example of the current and changing state of democracy, and what real Americans across demographics believe that term to mean. Yet, it reads as an engaging short story with a weaving, character-driven plot and not a word out of place."
—Chicago Book Review