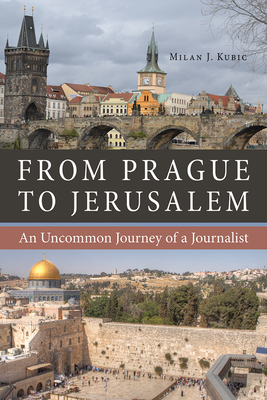 From Prague to Jerusalem (Paperback)
An Uncommon Journey of a Journalist
Northern Illinois University Press, 9780875807645, 312pp.
Publication Date: August 22, 2017
* Individual store prices may vary.
Description
After spending his childhood in Nazi-occupied Czechoslovakia and witnessing the Communist takeover of his country in 1948, a young journalist named Milan Kubic embarked on a career as a Newsweek correspondent that spanned thirty-one years and three continents, reporting on some of the most memorable events in the Middle East. Now, Kubic tells this fascinating story in depth.

Kubic describes his escape to the US Zone in West Germany, his life in the Displaced Persons camps, and his arrival in 1950s America, where he worked as a butler and factory worker and served in a US Army intelligence unit during Senator Joe McCarthy's witch-hunting years. Hired by Newsweek after graduating from journalism school, Kubic covered the White House during the last year of Dwight D. Eisenhower's presidency, the US Senate run by Lyndon Johnson, and the campaign that elected President John F. Kennedy.

Kubic spent twenty-six years reporting from abroad, including South America, the Indian subcontinent, and Eastern and Western Europe. Of particular interest is his account of the seventeen years—starting with the Six Day War in 1967—when he watched the Israeli-Palestinian conflict from Beirut and Jerusalem. In From Prague to Jerusalem, readers will meet the principal Israeli participants in the Irangate affair, accompany Kubic on his South American tour with Bobby Kennedy, take part in his jungle encounter with the king of Belgium, witness the inglorious end of Timothy Leary's flight to the Middle East, and observe the debunking of Hitler's bogus diaries. This riveting memoir will appeal to general readers and scholars interested in journalism, the Middle East, and US history and politics.
 
About the Author
Milan J. Kubic is a graduate of the Medill School of Journalism at Northwestern University. He served as a correspondent for Newsweek magazine from 1958 to 1989, covering Washington, South America, Eastern and Western Europe, and the Middle East.
 
Praise For From Prague to Jerusalem: An Uncommon Journey of a Journalist…
"Kubic's conflict stories are eye-opening gems, full of intrigue and insight."
—Foreword Reviews

"Kubic presents his interesting journey from youth behind the iron curtain through a long and successful career with Newsweek culminating in extended coverage of the Middle East debacle. The memoir illuminates myriad important historical events on three continents over the course of about a quarter century of Kubic's eventful journalistic career and contains many thought-provoking insights. The insider's account of the Arab-Israeli conflict is especially valuable."
—Walter L. Hixson, author of American Foreign Relations: A New Diplomatic History