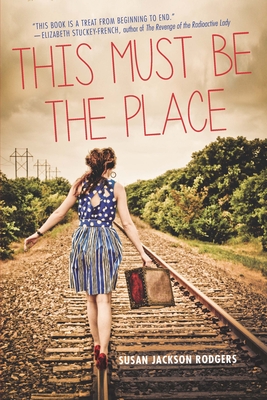 This Must Be the Place
Paperback

* Individual store prices may vary.
Description
It's the summer of 1983. Ronald Reagan is in the White House, Princess Leia is on magazine covers, and Thea Knox is on the road. Fresh out of college, Thea is driving solo from California to New York. Her plan is to house-sit for her parents for the summer, but they sell her childhood home on a whim, leaving Thea (once again) to her own devices. She takes a detour to visit her Aunt Wendy in Merdale, a college town nestled in the Kansas prairie. Unlike Dorothy, Thea's adventure begins when she arrives in Kansas.

Thea is immediately surrounded by her aunt's group of friends, including Julie, a bookstore owner; Nick, Julie's carpenter boyfriend; Bob, a stoner wildlife rehabilitator; and Amira, a lawyer who works with runaway girls. When she finds herself in love at first sight with Jimmy Ward, a local with a hazy past, Thea decides to extend her stay. Not everyone welcomes her into the fold, however, and Thea's own past—including her distant best friend and erstwhile boyfriends on either coast—is nipping at her heels. When she discovers a terrible secret that could upend Jimmy's world, the spell of happiness she has woven in this unlikely place threatens to break. This compelling coming-of-age novel explores the search for identity, love, friendship, and home, and celebrates the magic and mystery that exist in even the most ordinary places.

 
Praise For This Must Be the Place…
"Warm and occasionally edgy, this self-discovery-on-the-road novel evokes meaningful memories."
—Foreword Reviews

"Rodgers avoids platitudes and easy endings, and this story shines all the brighter against that which is not said. Simple but sharp and perfectly timed for a summer road trip."
—Kirkus Reviews

"Susan Jackson Rodgers's Kansas novel This Must Be the Place alludes to The Wizard of Oz, but its true Midwestern forebear is Winesburg, Ohio in the way it uncovers secrets—the deep, hidden bones that prop up people and sometimes even communities. Rodgers's protagonist, Thea, keeps some of the secrets and reveals some, but at its heart this novel is about her desire and her worldview, which is wry and thoughtful and lusty and true."
—Daniel A. Hoyt, author of This Book Is Not for You
"Well imagined . . . [an] always-engaging coming-of-age novel."
—
Booklist
"The place in
This Must Be the Place
is Merdale, a college town fastened to the Kansas prairie. Susan Jackson Rodgers depicts it so vividly I felt I had been transported there to live again through the summer of 1983. If only I could have handled the Reagan era with as much spunk and intelligence as Rodgers's heroine, Thea Knox. I can't remember when I last met a character as smart and open to the world as Thea. This book is a treat from beginning to end."
—Elizabeth Stuckey-French, author of
The Revenge of the Radioactive Lady
"This well-written novel introduced me to a place and set of characters that felt fresh, interesting, and entertaining. I enjoyed immersing myself in the unexpected community of Merdale."
—Caitlin Horrocks, author of
This Is Not Your City
"Susan Jackson Rodgers has created an utterly winsome narrator in Thea, plucky, observant, and honest. She's the best guide we could hope for on this journey through the Land of Oz, better known as contemporary America. Rodgers writes with sublime detail and fearless energy—every page crackles with humor, compassion, and derring-do. Thea has enough courage for all of us as she travels cross country, picking up a stray dog who becomes her familiar, and begins to unwind the complicated memories of her past when she arrives at Aunt Wendy's house. This is a must-read for anyone who has wondered how to make sense of the chaos of the current times amidst the unresolved questions of a past that seems blown to pieces by storm winds. What is love? Who are the people who claim to be our parents? How am I to enter the ordinary world after coming back from Oz? Rodgers creates an original cast of characters who are so alive that we believe they must be real people, we come to care so much about them. This is a novel to be read late into the night and then shared with friends and relatives—you'll see what I mean!"
—Jonis Agee, author of
The Bones of Paradise
and
The River Wife
"This tough-talking novel beguiles the reader with its forthright sexuality, its prickly characters, and its surprising representation of the Midwest. Many show-stopping paragraphs and a twister of a plot! I was delighted to spend time with Susan Jackson Rodgers, who exudes passion, poetry, humor, hard-won wisdom, resilience, and grit."
—Trudy Lewis, author of
The Empire Rolls
"One of the strengths of
This Must Be the Place
is the carefully constructed voice of the narrator. Engaging and vulnerable, it made me want to go along on this journey with her."
—John McNally, author of
After the Workshop
Switchgrass Books, 9780875807683, 180pp.
Publication Date: August 22, 2017
About the Author
Susan Jackson Rodgers is the author of the short-story collections The Trouble with You Is and Ex-Boyfriend on Aisle Six. Her stories have appeared in Glimmer Train, New England Review, Prairie Schooner, North American Review, and Colorado Review. She teaches creative writing at Oregon State University.