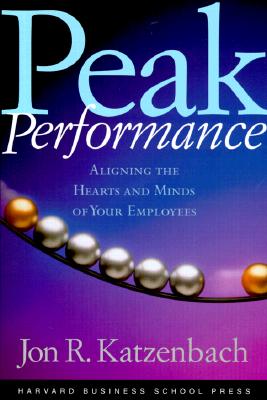 Peak Performance (Hardcover)
Aligning the Hearts and Minds of Your Employees
Harvard Business Review Press, 9780875849362, 304pp.
Publication Date: April 11, 2000
* Individual store prices may vary.
Description
Drawing on an in-depth study of carefully selected enterprises, Jon Katzenbach found distinct patterns in how companies engage their employees to capitalize on emotional energy and consistently achieve higher levels of performance than their competition. At the heart of Peak Performance lies Katzenbach's identification of five balanced motivational paths: 1) the mission, values, and pride path, 2) the process and metrics path, 3) the entrepreneurial spirit path, 4) the individual achievement path, and 5) the recognition and celebration path. He contends that these paths create a framework of options for managers about where and how to generate emotional energy and how to channel that energy for higher performance. Essential to each path is leadership's commitment to strike a balance between enterprise performance and worker fulfillment. Through its detailed case studies, Peak Performance highlights the various sources of emotional energy unique to each organization and the discipline companies need to follow their chosen paths. The book concludes with guidelines for managers seeking to achieve better performance from their own workforces and gain the resulting competitive edge.
About the Author
Jon R. Katzenbach is the Senior Partner of Katzenbach Partners LLC, a consulting firm in New York City that specializes in leadership, team, and workforce performance. He is co-author of the bestselling The Wisdom of Teams (Harvard Business School Press, 1993), author of Teams at the Top (Harvard Business School Press, 1997), and editor of The Work of Teams (Harvard Business School Press, 1998).
or
Not Currently Available for Direct Purchase