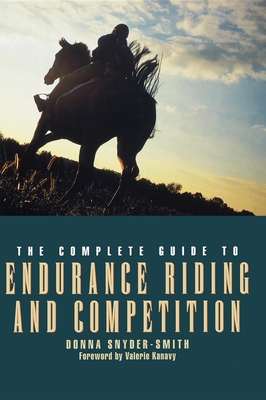 The Complete Guide to Endurance Riding and Competition (Hardcover)
Howell (TP), 9780876052846, 256pp.
Publication Date: April 1, 1998
* Individual store prices may vary.
Description
First Star to the Right and Straight on Till Morning.... At the 90-mile vet check she sat in the middle of the road crying, claiming extreme illness and trying to avoid her nightmarish fears her horse would die of founder or colic, or anything. The last ten miles of trail stretched forever in her mind, black like licorice taffy. After a large measure of TLC from her patient and understanding crew, she and the gelding were out of the check and on the trail again. The entire universe shrank to center on the pair in the moonlight. Time stopped and the world faded into nothingness. They were running in a small, ever-changing pocket of existence, the rhythm of his hooves, the heartbeat of that universe. Ribbons and trail appeared before them and lost substance as they moved past. For the rider, clinging to the saddle, there was no thought, no pain, no emotion, only the instinctive drive to chase past each ribbon as it appeared. Suddenly her horse jumped sideways, eyes and ears frozen forward. Awakened from her trance, she oriented herself on his suspected woods troll, a familiar embankment that meant they were a half-mile from home. Easing him past the scary object, she sent the gelding on, clinging to his neck. As his soft lope swept them across the finish line, she wanted to laugh out loud or cry, but was unable to summon the strength for either. A few small tears trickled down her cheek, the only sign of the enormous pride she felt inside. Becky Huffman Endurance rider, wife, mother of two, and student of author Donna Snyder-Smith
The Howell Equestrian Library.
About the Author
DONNA SNYDER-SMITH is widely acknowledged as a gifted teacher who has competed horses successfully and coached students in open jumping, dressage, three-day eventing, western pleasure and trail, and endurance riding. In 1966, on her first attempt at endurance riding, she won the prestigious silver Tevis buckle by completing the famous 100 Mile One Day Ride. She has been a freelance journalist for more than thirty years and was editor of Trail Blazer magazine for two years. In 1991, the American Riding Instructor's Association honored her with their Lifetime Achievement Award for her writing and teaching. The Complete Guide to Endurance Riding and Competition is her first book.