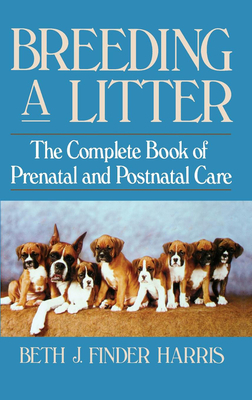 Breeding a Litter (Hardcover)
The Complete Book of Prenatal and Postnatal Care
Howell Books, 9780876054147, 272pp.
Publication Date: March 1, 1993
* Individual store prices may vary.
Description
Breeding a Litter: The Complete Book of Prenatal and Postnatal Care is the most up-to-date and inclusive guide to breeding, whelping and placing puppies. There is a focus on making the most of the ""breeding experience"" in order to produce puppies who are physically and emotionally sound and go on to enjoy life and enrich the lives of the humans around them. This book contains the all-important basic knowledge necessary to serve as a foundation for the reality of firsthand experience. A clear and commonsense format shows everyone who is thinking about breeding a litter how to create the best possible environment for dogs, puppies and owners alike. Beyond the basics, author Beth J. Finder Harris gives detailed information on selecting breeding stock, neonatal care, puppy development, social conditioning, and also fully addresses the aspects of breeders' responsibilities, contracts and puppy care instructions.
A Howell Dog Book of Distinction.
About the Author
Beth J. Finder Harris has been an active breeder, exhibitor, Obedience trainer and author whose dogs have earned over 175 titles in various fields of endeavor.