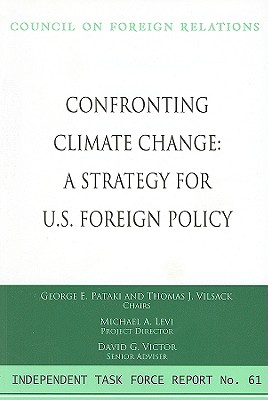 Confronting Climate Change (Paperback)
A Strategy for U.S. Foreign Policy (Independent Task Force Report #61)
Council on Foreign Relations Press, 9780876094129, 122pp.
Publication Date: July 28, 2008
* Individual store prices may vary.
Description
Climate change is now near-universally recognized as a serious challenge. Statements from political leaders, industry CEOs, environmental groups, and major evangelical associations have made the expanding consensus undeniable. Yet the United States remains without a climate change policy that can command broad domestic support. This deadlock is entirely understandable: meaningful measures to address climate change would affect a wide range of important and powerful domestic interests. Such measures would also alter the international landscape, both for American business and for U.S. diplomacy. As consensus grows around the need to do something, the problem becomes one of translating that into a concrete and viable agenda for action.Led by former governor of New York George E. Pataki and former governor of Iowa Thomas J. Vilsack, the Task Force (made up of some of the nation's leading scientists, economists, business leaders and security and foreign policy thinkers) examines the economics, science, and politics of climate change. In this report, it proposes a comprehensive U.S. strategy to address the challenges that climate change presents, with special emphasis on those that explicitly involve foreign policy.
or
Not Currently Available for Direct Purchase