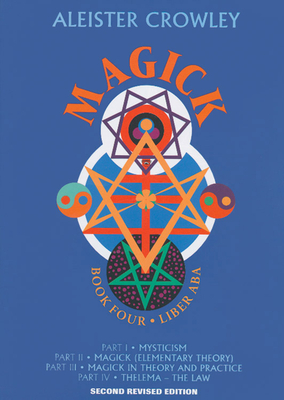 Magick
Book 4-Liber Aba
Hardcover

* Individual store prices may vary.
Description
Aleister Crowley's magnum opus, in which he systematically expounds on mystical and magical theories and techniques.

This profusely illustrated edition brings together the complete texts of all four parts of Liber ABA (Book 4) in one volume under the overall title Magick. This edition incorporates Crowley`s own additions, corrections, and annotations, and restores dozens of passages omitted from the first editions.

Magick is the fundamental textbook of modern magick in the New Aeon. It also has invaluable teachings for students of Yoga and meditation. Crowley mastered the practices of Yoga during his studies in the East, and writes about them lucidly, without recourse to the imprecise language of mysticism.

Beginning with a discussion of the universal origin of world religions in mystical revelation, Magick then explores the theory and practice of mysticism and magick in the light of modern scientific thought. Crowley`s own revelation, The Book of the Law, is then treated as a case study, with an autobiographical study of events leading to its reception.

Extensively cross-referenced and annotated, this edition features over 100 diagrams and photographs, as well as a glossary, bibliography, and detailed index. This second revised one-volume edition features revisions based on new typescripts for a more accurate text than all earlier editions, and it includes a revised AA curriculum, a new syllabus of the O.T.O. papers, and an important, previously-unpublished AA paper.
Weiser Books, 9780877289197, 844pp.
Publication Date: January 1, 1998
About the Author
Aleister Crowley (1875-1947) was the most widely read author in 20th-century occultism. He single-handedly redefined magic as a field of inquiry and endeavor through his books and the order that he led--the A.A. and the O.T.O. He is the author several books including The Book of the Law, 777 & Other Qabalistic Writings, and The Book of Thoth.