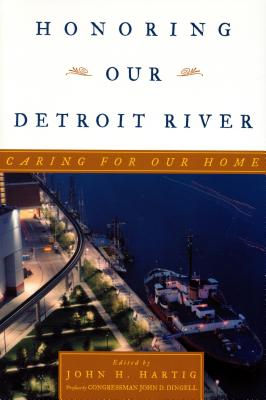 Honoring Our Detroit River (Paperback)
Caring for Our Home
Cranbrook Institute of Science, 9780877370444, 234pp.
Publication Date: September 25, 2003
* Individual store prices may vary.
Description
With its long reputation as a polluted and degraded river in the industrial heartland, the Detroit River has been identified by the International Joint Commission as a Great Lakes Area of Concern with impaired beneficial uses. Yet the river has undergone a dramatic rehabilitation, and in July 1998 it was designated by Presidential Executive Order as one of 14 American Heritage Rivers in the United States.
The Detroit River-running 32 miles and linking Lake St. Clair to Lake Erie-serves as an invaluable and multifaceted community resource for economic development, environmental stewardship, and historical preservation.
Honoring Our Detroit River looks at key aspects of the river's history and impact on the surrounding ecosystem since its formation some 14,000 years ago. The book identifies what is needed to protect and further rehabilitate the Detroit River, exploring specific topics that range from its history with the Native Americans to the river's current-day planning and management. Unique environmental stories highlight the Detroit River's significant progress and help readers to learn more about this valuable resource and to care for it as their home.
About the Author
John H. Hartig is River Navigator for the Greater Detroit American Heritage River Initiative established by Presidential Executive Order and is the author of Under RAPs: Toward Grassroots Ecological Democracy in the Great Lakes Basin (University of Michigan Press, 1992).
or
Not Currently Available for Direct Purchase