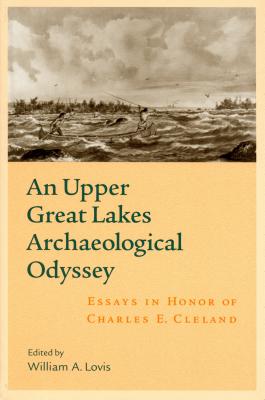 An Upper Great Lakes Archaeological Odyssey (Paperback)
Essays in Honor of Charles E. Cleland
Cranbrook Institute of Science, 9780877370451, 247pp.
Publication Date: April 1, 2004
* Individual store prices may vary.
Description
An Upper Great Lakes Archaeological Odyssey celebrates the career of Charles E. Cleland-Michigan State University emeritus professor and curator of anthropology-through a series of focused research papers by a distinguished sample of his friends, colleagues, and former students. All ten papers touch on some aspect of Cleland's thirty-five years of research into the past and present of the indigenous peoples of the Upper Great Lakes. Collectively, these contributions demonstrate the rich diversity of both Cleland's research interests as well as the innovative directions of contemporary archaeology in the Great Lakes region.
Jim Harrison, noted author and Cleland aficionado, provides a dedication for the volume. What follows is a historical tribute to the career of Charles Cleland, emphasizing his many contributions to the archaeology of the Upper Great Lakes and his profession, as well as his pioneering interactions with Indian peoples. Consequently, the chapters geographically span a generous area of the Upper Great Lakes region, ranging from Illinois and Wisconsin through both peninsulas of Michigan and into Ontario. Casting a broad net, the topics covered by the thirteen contributors span from two thousand years ago to the present, taking new approaches to old problems and providing exciting insights into their evolution and current status. With a new eye and the advantage of hindsight, some authors revisit Cleland's old research haunts, such as the chapters on the Canadian/Carolinian transition zone, the origins of the Great Lakes inland shore fishery, the Late Woodland Heins Creek site, northern ridged field agriculture, and the fur trade archaeology of Fort Michilimackinac. Other topics reveal innovative research into broader issues of historical archaeology, mortuary analysis, subsistence practice at a Mesquakie Fort and the taphonomy of riverine urban environments.
The broad range of research in this book will satisfy the eclectic in all, whether interested in ceramics and chronology, mortuary analysis, settlement and subsistence systems, the interactions of Europeans, Americans, and Native peoples during the past four centuries, the origins of indigenous horticulture, or a small piece of Upper Great Lakes archaeology.
About the Author
William A. Lovis is professor of anthropology at Michigan State University, associate director for the natural and social sciences, and curator of anthropology at the MSU Museum.
or
Not Currently Available for Direct Purchase