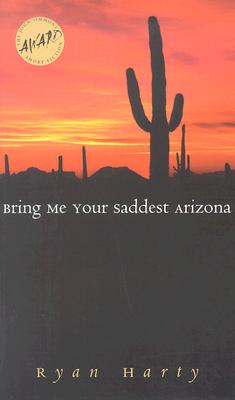 Bring Me Your Saddest Arizona (Iowa Short Fiction Award)
Paperback

* Individual store prices may vary.
Description
The vast, unsettling landscape of the American Southwest is as much a character in Ryan Harty's debut collection, Bring Me Your Saddest Arizona, as the men and women who inhabit its award-winning stories. In eight vivid tales of real life in the west, Harty reminds us that life's greatest challenge may be to find the fine balance between desire and obligation.
A high school football player must make a choice between family and friends when his older brother commits an act of senseless violence. A middle-aged man must fly to Las Vegas to settle his dead sister's estate, only to discover that he must first confront his guilt over his sister's death. A young teacher tries to help a homeless girl, but, as their lives intertwine, he begins to understand that his generosity is motivated by his own relenting sense of lonliness. Well-intentioned but ultimately human, the characters in these stories often fall short of achieving grace. But the possibility of redemption, like the Sonoran Desert at the edge of Bring Me Your Saddest Arizona's suburban landscapes, is never far off. Harty's characters are as complicated as the people we know, and his vision of life in the west is as hopeful as it is strikingly real.
Praise For Bring Me Your Saddest Arizona (Iowa Short Fiction Award)…
"Love hurts—and Ryan Harty is here to count the ways. In these sharply observed, well-written stories, he gets below the surface of ordinary lives, where the heart can be felt. In Bring Me Your Saddest Arizona, Mr. Harty shows his gift of being smart and honest, and he reveals that looking for home in the suburbs is always a complicated search."—Ron Carlson, author of The Speed of Light
"The desert exists as blazing limbo in Ryan Harty's Bring Me Your Saddest Arizona. Boys and women drive out of their abandoned pasts to see Phoenix glow like a revelation at the end of a highway. From Tumac to Tumacacori, along Toneleo Boulevard and Indian School Road, siblings as beautiful as movie stars go to war or disappear, heroes lose their way, and petty criminals reveal themselves in telling gestures of grace. Harty's southwestern, dark edge of suburbia characters are so believable we feel we know them. . . . Bring Me Your Saddest Arizona reveals a New West both haunted and shining, and Ryan Harty's quiet, cumulatively powerful voice, true in every detail and poignant tone, is unforgettable."—Jayne Ann Phillips
University Of Iowa Press, 9780877458692, 174pp.
Publication Date: October 1, 2003
or
Not Currently Available for Direct Purchase