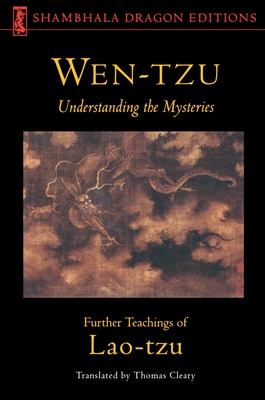 Wen-Tzu (Paperback)
Understanding the Mysteries: Further Teachings of Lao Tzu
Shambhala, 9780877738626, 208pp.
Publication Date: September 29, 1992
* Individual store prices may vary.
Description
Lao-tzu, the legendary sage of ancient China, is traditionally considered to be the author of the Tao Te Ching, one of the most popular classics of world literature. Now Lao-tzu's further teachings on the Tao, or Way, are presented here in the first English translation of the Chinese text known as the Wen-tzu. Although previously ignored by Western scholars, the Wen-tzu has long been revered by the Chinese as one of the great classics of ancient Taoism. In it, Lao-tzu shows that the cultivation of simplicity and spontaneity is essential to both the enlightened individual and the wise leader. This timeless work will appeal to a broad audience of contemporary readers who have come to consider Lao-tzu's Tao Te Ching a classic on the art of living.
About the Author
Thomas Cleary holds a PhD in East Asian Languages and Civilizations from Harvard University and a JD from the University of California, Berkeley, Boalt Hall School of Law. He is the translator of over fifty volumes of Buddhist, Taoist, Confucian, and Islamic texts from Sanskrit, Chinese, Japanese, Pali, and Arabic.