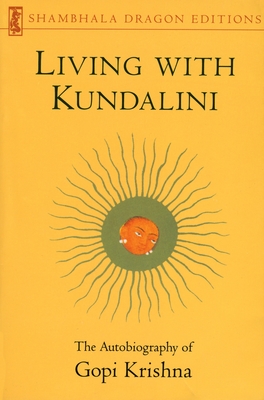 Living with Kundalini
The Autobiography of Gopi Krishna
Paperback

* Individual store prices may vary.
Description
This classic first-person account of spiritual awakening was first published under the title Kundalini: The Evolutionary Energy in Man —here expanded with two-thirds new material drawn from the author's writing to make a complete autobiography.
Praise For Living with Kundalini: The Autobiography of Gopi Krishna…
"With so many 'spiritual teachers' today proclaiming their own greatness, this humble, matter-of-fact tale of an almost accidental spiritual odyssey is reassuring. Maybe all this stuff is true."—Shambhala Sun



"At a time when the word 'Kundalini' is bandied about by too many self-appointed gurus and occult groups offering enlightenment in ten easy lessons, Gopi Krishna provides a salutary reminder of what a serious undertaking it is to attempt to raise this awesome power. He states that the Kundalini is the basis of all psychic manifestations in the individual, including mediumship and clairvoyance, a fact which renders this book of great importance to anyone working in a psychic capacity."—Light

"Gopi Krishna was a pioneer in the land of spirituality. What he described as psychic forces in human beings are now being understood as fields of energy and information. I salute this great sage and scientist of the twentieth century and congratulate the publishers for bringing out this volume."—Deepak Chopra, M.D., author of Quantum Healing

"Gopi Krishna was a true psychenaut into the realms of human possibility, an Odysseus of inner space. The publication of his autobiography should be a major event in the documentation of who and what we really are."—Jean Houston, Ph.D., Director Foundation for Mind Research

"Gopi Krishna's description of the changes—psychological, physical, perceptual, and biochemical—which can happen to a person who is in the process of an accelerated spiritual emergence process was the first definitive work written for the Western world about kundalini awakening. This new book should be a great comfort to those trying to comprehend the process."—Emma Bragdon, Ph.D., Editor of the Spiritual Emergence Network Newsletter

"The writing of Gopi Krishna is an indispensable resource for anyone who wishes to begin to understand the role of kundalini in exceptional mental states and in the evolution of consciousness. His own kundalini awakening is itself an extraordinary and inspiring story of human possibility and gives one a sense of the tremendous spiritual birthright each of us carries within our own nervous system."—Kenneth Ring, Ph.D., Professor of Psychology, University of Connecticut, and author of Heading toward Omega and The Omega Project

"It was above all Gopi Krishna who, through his fascinating autobiography and other works, made the kundalini phenomenon widely known in the West. More than that, he brought it down from the level of abstract speculation to concrete description based on personal experience. He struggled hard to make this complex and crucial spiritual phenomenon intelligible in his numerous writings and talks, and I regard him as one of the bridge-building pioneers of our time, who hewed new paths for the necessary dialogue between East and West."—Georg Feuerstein, Ph.D., Author of Encyclopedic Dictionary of Yoga
Shambhala, 9780877739470, 428pp.
Publication Date: November 9, 1993
About the Author
Gopi Krishna (1903–1984) was an ordinary Indian householder who experienced the awakening of the spiritual force known as kundalini at the age of thirty-four. He subsequently became the inspired writer of numerous books in which he shared his insights with others.
or
Not Currently Available for Direct Purchase