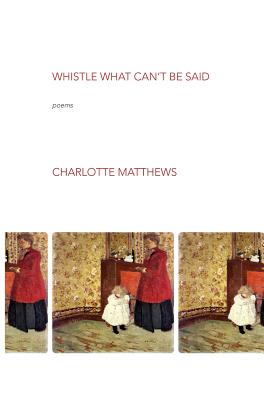 Whistle What Can't Be Said
Paperback

* Individual store prices may vary.
Description
Poetry. Charlotte Matthews' wonderful work concerns the ordinary strange, the ordinary dark, all of it surprising. Grief underpins this world with such unnerving offhand clarity that it's both pleasure and pain to hear these poems. Because you do hear them--and see such small huge things by way of a voice and eye truly attentive to childhood, to pandas and birds, to the ravages of cancer, to death and birth, to circus trains stopped in the middle of nowhere, to kindness and clocks, to moments of news where everything suddenly shifts for the speaker of these poems and thus for the reader. A most radiant honest intelligence lives in this book.--Marianne Boruch

With candor, craft and courage, Charlotte Matthews writes intimate poems that refuse to skate over the trials of childhood: she perseveres through absence, illness and loss, earning the rich and poignant claim 'most of what / I care about is invisible.' Having endured difficulty, in the last section of the book, as if taking Rodin's advice to Rilke, she can say of Pandas at the zoo 'I'm watching them, these black / and white bears luscious as anything I can name.' Thanks to her hard work she--and we--can look out at the world with fierce and loving attention and take in our beautiful, difficult lives.--Ira Sadoff

Within every tornado of consequence is a core of quiet. Charlotte Matthews crouches inside that core. Each line break is an act of disclosure, a tilt toward devastation or delight. WHISTLE WHAT CAN'T BE SAID explores an experience with cancer, recognizing 'What I want back are not my breasts / though they were the exact ones I would / have chosen.' But Matthews offers much more than a recovery narrative. Spanning generations, each poem tugs at the senses with its careful phrasing; even dull linoleum comes alive with 'exquisitely bright flecks / the yellow of Audubon's Oriole.' Vibrant, wise, this collection awakened my awareness to the world.--Sandra Beasley.
Unicorn Press (UK), 9780877758006, 62pp.
Publication Date: June 20, 2017
or
Not Currently Available for Direct Purchase