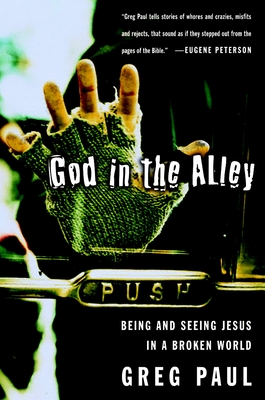 God in the Alley: Being and Seeing Jesus in a Broken World (Paperback)
Being and Seeing Jesus in a Broken World
Shaw Books, 9780877880929, 144pp.
Publication Date: December 7, 2004
Description
"Greg Paul tells of whores and crazies, misfits and rejects that sound as if they stepped out from the pages of the Bible." -Eugene Peterson Sam has survived physical, sexual, and substance abuse, terrible violence, and life on the streets. Wendy lives for the next high on crack, oblivious to her boyfriend's love. Neil is dying of AIDS. These are the people of inner-city Toronto. Look into their distorted, obscure faces, their fractured lives, and catch a glimpse of the sublime. Greg Paul calls them tragic heroes-individuals who can offer a testament to God's love and mercy. With emotional depth and spiritual intensity, Greg's compelling stories reveal that people with desperate lives have precious lessons to teach us about the character of God. God in the Alley offers a profound message of grace and calling that each one of us needs to hear. "The experience of reading this book haunts, convicts, delights. But one thing is for sure: you don't want to miss it."
-Mark Buchanan, author of The Holy Wild: Trusting God in Everything "Greg Paul writes beautifully and welcomes us into the life he lives.... I am grateful to have read this book."
-David Wilcox, musician, songwriter, and storyteller "I dare you to read this book at more than one sitting. Each page is a seat belt that straps you in and the turning of the page pulls the straps tighter. When the ride is over, you'll want to start again."
-Leonard Sweet, author of numerous books including Soul Tsunami

About the Author
Greg Paul is the founder and director of Sanctuary Ministries of Toronto and the pastor of the Sanctuary community. A former carpenter, Greg's twenty-five years in inner-city ministry began with Red Rain, a band that planted the seed for Sanctuary in the mid-1980s. Lead vocalist and keyboardist, Greg still performs with Red Rain in bars, universities, jails, and other venues.
Praise For God in the Alley: Being and Seeing Jesus in a Broken World…
"Greg Paul tells of whores and crazies, misfits and rejects that sound as if they stepped out from the pages of the Bible. The only difference is that he finds them on the streets of Toronto, instead of the Jericho Road and at the Samaritan Well. But they continue to be Jesus stories, every one–honest, accurate Jesus stories of which he gets to be a part."
–Eugene Peterson, professor emeritus of spiritual theology, Regent College, and author of numerous books

"I dare you. No, I double dare you to read this book at more than one sitting. Each page is a seat belt that straps you in, and turning of the page pulls the straps tighter. When the ride is over, you'll want to start again."
–Leonard Sweet, author of numerous books including Out of the Question...Into the Mystery

"Through Greg Paul's eyes, we're surprised to see Jesus here and now–alive and right in front of us. He doesn't preach at them: 'I have learned too well the bitter emptiness of chirpy gospel-talk to ones so deeply wounded.' Instead, he listens to them. He shows up and gets to know them. He sets aside his plans enough so that God has space to act. And Jesus moves in Greg's heart and in his actions. And now in his writing, that light also shines. I am grateful to have read this book."
–David Wilcox, musician, songwriter, and storyteller

"Greg Paul has been my guide on several encounters with the street people of Toronto. To him they are not 'the homeless,' but rather his friends; he knows them by name, is familiar with their stories, and treats them with a mixture of respect, sensitivity, and concern. I think the reader of this moving narrative of Greg's work at Sanctuary will be hard pressed to decide whether he finds God in the back alleys of Toronto, or takes God in there with him."
–Hon. Hilary M. Weston, former lieutenant governor of Ontario (1997-2002)

"With the writing of this book, Greg has not only told his story and the story of those who live on the periphery but he has called us, his readers, to come to grips with our own prejudices and brokenness and to understand what it means to follow a suffering Savior."
–Dr. Rod Wilson, president of Regent College, Vancouver, British Columbia

"A riveting book. From the first story in this book, you are drawn in to a world that Jesus walks in and through."
–Marsha Marks, author of If I Ignore It, It Will Go Away…and Other Lies I Thought Were True

"We should have known better: all our elaborate and contrived efforts to discover Jesus in our midst, and all the while the kingdom has been among us, though hidden beneath its tumbledown exterior. What's more, the king himself is here, only wearing the disguise of the least of these. With candor, humor, and love, Greg Paul tells his tales of urchins and vagabonds, street walkers and panhandlers, and in doing so pulls scales from our eyes to reveal Christ for us, with us, in us, through us. The experience of reading this book haunts, convicts, delights. But one thing is for sure: you don't want to miss it."
–Mark Buchanan, author of The Holy Wild: Trusting God in Everything

"Greg Paul has found the courage–and the calling–to walk as Jesus walked among the disillusioned, the downtrodden, and the discouraged. Read God in the Alley and you will be encouraged to look for lonely people where you live."
–Angela Hunt, author of The Debt

"Profound yet simply and poetically written, God in the Alley is engaging, inspiring, demanding, and so needed. Greg Paul writes with a poetic eye for detail and a deep love and affection for those whose lives have intersected with his. Detailing his own journey in learning to live a life of compassion and grace he inspires and invites us all to join him in the journey of living the life of Christ, every day, and every hour of our own lives."
–Devlin Donaldson, author of Pinocchio Nation
Advertisement