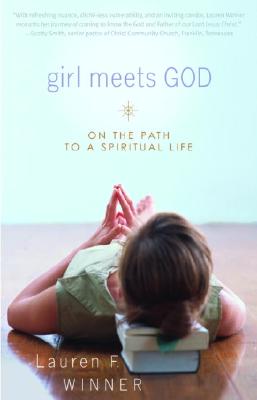 Girl Meets God: On the Path to a Spiritual Life (Paperback)
On the Path to a Spiritual Life
Shaw Books, 9780877881070, 310pp.
Publication Date: January 20, 2004
* Individual store prices may vary.
or
Not Currently Available for Direct Purchase
Description
The child of a Jewish father and a lapsed Southern Baptist mother, Lauren F. Winner chose to become an Orthodox Jew. But even as she was observing Sabbath rituals and studying Jewish law, Lauren was increasingly drawn to Christianity. Courageously leaving what she loved, she eventually converted. In "Girl Meets God," this appealing woman takes us through a year in her Christian life as she attempts to reconcile both sides of her religious identity.
Here readers will find a new literary voice: a spiritual seeker who is both an unconventional thinker and a devoted Christian. The twists and turns of Winner's journey make her the perfect guide to exploring true faith in today's complicated world.
Praise for "Girl Meets God: "
A passionate and thoroughly engaging account of a continuing spiritual journey within two profoundly different faiths.
"The New York Times Book Review"
A charming, humorous, and sometimes abrasive recollection of a religious coming-of-age . . . a compelling journey from Judaism to Christianity.
"The Atlanta Journal-Constitution"
A book to savor . . . Winner is an all-too-human believer, and the rest of us can see our own struggles, theological and otherwise, in hers.
"Fort Worth Star-Telegram"
A] memoir, literary and spiritual, sharing Anne Lamott's self-depreciating intensity and Stephen J. Dubner's passion for authenticity . . . Winner's record of her own experiences so far is a page-turning debut by a young writer worth watching.
"Publishers Weekly" (starred review)
The] narrative's real strength . . . is its addictive readability combined with the author's deep knowledge of, delight in, and nuanced discussion of both Christian and Jewish teachings. . . . Intriguing, absorbing, puzzling, surprisingly sexy, and very smart.
"Kirkus Reviews" (starred review)
About the Author
Lauren F. Winner, the former book editor for Beliefnet, has appeared on PBS s "Religion & Ethics Newsweekly "and has written for "The" "New York Times Book Review, The Washington Post Book World, Publishers Weekly, "and" Christianity Today." Her essays have been included in "The Best Christian Writing 2000" and "The Best Christian Writing 2002." Winner has degrees from Columbia and Cambridge universities and is currently at work on her doctorate in the history of American religion. She lives in Charlottesville, Virginia."
Praise For Girl Meets God: On the Path to a Spiritual Life…
"With refreshing nuance, cliché-less vulnerability and an inviting candor, Lauren Winner recounts her journey of coming to know the God and Father of our Lord Jesus Christ. If only more of us could learn to share the gospel of God's grace with our culture as Lauren does in Girl Meets God–with a heart for building bridges and for listening and dialoging about redemption through Jesus, as opposed to boring our neighbors with irrelevant and club-ish religio-speak.  This book should become a required text for any class on evangelism, and it is essential reading for those of us who want to learn how to share the gospel in a postmodern world."            
–Scotty Smith, senior pastor of Christ Community Church, Franklin Tennessee

"A fun and intellectual read. With skillful imagery and a writing voice that shouts for attention, Winner takes us along for the ride on her quest for spiritual truth, reminding us of the rich tapestry of Jewish faith and Christian belief."
–Julie Ann Barnhill, author of Scandalous Grace

"Girl Meets God tells a redemptive tale, winsome and insightful, yet sure to raise a ruckus in heart, mind and soul. I've been waiting for Lauren Winner for a very long time, a young, sharp, sassy writer who lovingly kisses the face of God and doesn't care who sees."
–Lisa Samson, author of The Living End

"Over the years, several of my friends have asked me a question like this: 'How can a reasonably intelligent person like you believe in God, Jesus, church, heaven?' Sometimes their question implied a longing to believe in their own soul, but that longing kept running into a conflict with integrity, honesty, experience. Lauren Winner's wonderful spiritual memoir goes right into the heart of that conflict…and smiles the winsome, wise, humble smile of a pilgrim who has some mileage on her shoes and who knows something we all need to know."
–Brian D. McLaren, author, pastor, fellow in Emergent

"Winner's record of her own experience so far is a page-turning debut by a young writer worth watching."
–Publishers Weekly, starred review

"Her narrative's real strength…is its addictive readability combined with the author's deep knowledge of, delight in, and nuanced discussion of both Christian and Jewish teachings. Intriguing, absorbing, puzzling…and very smart."
–Kirkus Reviews, starred review

"Unusually challenging and satisfying.… This book is a refreshing invitation to plumb our own spiritual depths."
–The Roanoke Times

"Eye-opening…vivid."
–Winston-Salem Journal

"[Winner] searches for truth within the boundaries of both Jewish and Christian orthodoxy, sucking the marrow of experience right from the bones of tradition. To watch her search is to see a small demonstration of the process described in Paul's letter to the Ephesians: the joining of two bodies (Jews and Gentiles) in one person. Winner herself becomes a metaphor for what occurs in the person of Christ."
–Betty Smartt Carter, Books and Culture

"Lauren Winner's edgy brand of twenty-something authenticity is a stimulating and intelligent read that will inspire many to explore the reality of the forgiven life."
–Margo Smith, managing director of Hull's Family Bookstores, Winnipeg, Manitoba, Canada

"Lauren Winner tells the story of her spiritual pilgrimage with modesty and charm. She describes her path so appealingly that many readers will ask, 'How can I meet this guy, too?'"
–Frederica Mathewes-Green, NPR commentator and author of Facing East
Advertisement