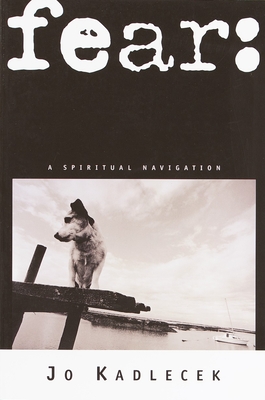 Fear (Paperback)
Shaw Books, 9780877882688, 192pp.
Publication Date: January 16, 2001
Description
Jump on in.
Even with fear and trembling.

"I think I have been learning about faith as long as I have lived in fear. Maybe longer. Whenever I am afraid, it is because I am also believing in something unseen, and like faith, it too requires an agile imagination. Both seem to have a way of growing bigger depending on how much attention we give them although one seems fed by truth and goodness while the other is fanned by worry and dreaded 'what ifs.'"

"Sort of like jumping into the sea though your stomach is as jittery as the boat and you call on God out of sheer absolute desperation though you feel anything but spiritual. You feel fear, in fact. Everywhere. But somehow once your skin is submerged in water, that same fear melts into a fear of God and it grips you, holds you close, keeps you safe. Makes you new. And your fear of water, or of men, or of loneliness, or of different people, or of being disabled or forgotten, dissolves like ice cubes on a summer day. You hardly notice the change but you drink it up and thirst for more."

"This too, like faith, is a gift. Coming from the One who knew before you did that to soothe your soul was his job, not yours. Yours was to jump."
—from the book

Jo Kadlecek's masterful storytelling and image-rich life navigates us through fearful episodes and moments of joy. You will grapple honestly with questions of truth, faith, and spiritual freedom. Kadlecek's God understands and calms fear—a God at work in the inner-city or poolside. Join Kadlecek in finding encouragement and hope as together you comb the shoreline of fear.
About the Author
AUTHORBIO: Jo Kadlecek holds Master of Arts degrees in humanities with an emphasis on American literature (where her thesis project was a full-length play on the conversion of Dorothy Day), and in cross-cultural communication with an emphasis in urban ministry. She has a bachelor degree in speech and English secondary education. Currently, she and her husband live in New York City as white residents in the predominantly black neighborhood, trying to continue a commitment to urban living and cross-cultural neighboring. (She also lived in the black community of west Jackson, Mississippi for a year, and in Denver's Five Points for seven years.) Kadlecek's commitment to urban and social justice issues enhances her devotion to the literary arts, since both reflect the drama of human experience.

Founding editor and columnist with Inklings, a quarterly literary journal, Kadlecek is an award-winning freelance writer and journalist, covering primarily cross-cultural, literary, and religious issues for publications such as Discipleship Journal, Charisma, Christianity Today, The Saturday Evening Post, Clarity, Virtue and The National/International Religion Report.

Kadlecek is a contributing editor to www.Crosswalk.com, and the co-author of eight books, including the Gold Medallion finalist Resurrecting Hope: Powerful Stories of How God is Reaching the Cities (Regal) with John Perkins. In 1999 she wrote I Call You Friend: Four Women's Stories of Race, Faith and Friendship with Pamela Toussaint (Broadman&Holman) and Feast of Life: Spiritual Food for Balanced Living (Baker). She has a forthcoming book with Guidepost's Ruth Stafford Peale, another with Dr. Taylor Field of Graffiti Baptist Ministries on New York's lower east side, and is currently writing a book with Broadman&Holman that explores stories of redemption in the everyday.

In addition to her writing, Kadlecek has taught literature, communication, and writing courses for the past eighteen years to adult, college, and high school students on several Christian and mainstream campuses. As of September 2000, she will be working as a part-time writing teacher at a local elementary school with third and fourth grade students. Kadlecek has spoken at numerous workshops, writers' conferences, and literary festivals and has taught Bible studies at a variety of conferences, retreats, seminars, and churches. She is a member of the National Writer's Union and formerly served on the board of advisors for Virtue, Inklings, and VisionNew York.
Praise For Fear…
"Fear not--hard to do. Jo Kadelecek's book is a tender tribute to human hold-back. By opening wide the windows of her heart, she urges us out of our own prisons and into the freedom that faith promises."
--Elisa Morgan, President and CEO of MOPS International

"I thank God for writers like Jo Kadlecek. By telling the messy truth about her own struggle with fear she gave me courage to do the same. And this is just one of the many gifts her book has to give. So go ahead--jump in the deep end. You'll find every graceful word of Jo's to be a life preserver and a helping hand."
--Charlie Peacock, musician, author of At the Crossroads

"It is wonderfully ironic that a book about fear should be this brave, and that this kind of unflinching--even brutal--honesty should produce such a healing, life-giving work. Whatever fears may bind us, Jo Kadlecek has given us a beautiful reminder (or perhaps a revelation) that the Truth really can set us free."
--Carolyn Arends, recording artist, author of Living the Questions

"A beautifully honest treasure map. Jo Kadlecek invites us on the journey from fear, to faith, to love."
--Kelly Monroe, ed. Finding God at Harvard, founder and director of the Veritas Forum

"Jo's stories combine lofty quotes with gritty, ordinary moments to urge you to keep working through, moving forward, and overcoming when it would be easier to sit it out."
--Jan Johnson, author of When the Soul Listens and Enjoying the Presence of God

"Jo Kadlecek is a gutsy lady! And a wise one. She has intricately spelled out her fear-of-living–creating, in her articulate telling, a microcosm of the human condition. Through this comes, finally, the insight she needs. And it fits us...it truly does."
--Judith Deem DuPree, author of Going Home and I Sing America, and founder of AD LIB

"Jo's voice is the voice of a friend. She writes with the intimacy of conversation, such as you'd delight to share in over coffee or tea. Her goal: that we might all emerge from the reading a little more secure because of faith, despite life's challenges and uncertainties."
--Denise Williamson, author of The Dark Sun Rises
Advertisement