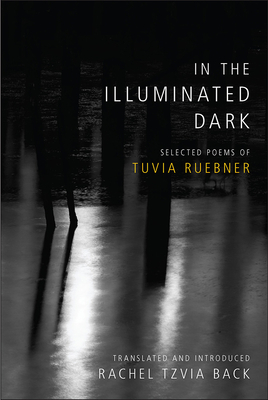 In the Illuminated Dark
Selected Poems of Tuvia Ruebner
Hardcover

* Individual store prices may vary.
Description
Loss defines the crossbeams and chronicles of Tuvia Ruebner's life. Born in 1924 into a semi-secular Jewish family in Slovakia, Ruebner was also born into the catastrophe that would follow—the extermination of European Jewry and of his own family in the Holocaust. Hitler became chancellor of Germany on Ruebner's ninth birthday. Six years later, the race-laws enacted in Slovakia banned all Jewish students from school, and Ruebner's formal education ended with ninth grade. His involvement in the Socialist-Zionist youth movement bought him a ticket out to Palestine and, in 1941, the seventeen-year-old bid his family farewell at the Pressburg-Bratislava train station, unaware that he would never see them again.

The disasters of the twentieth century swept Ruebner from Europe to Israel, from German to Hebrew, from the familiar to the strange. Despite his truncated formal education, he became a poet and man of letters in Israel's fledgling intellectual community alongside other Jewish immigrant-refugee-survivors like Ludwig Strauss, Werner Kraft, Lea Goldberg, and Dan Pagis, eventually gaining international esteem as professor of comparative literatures at Haifa University and as translator of Nobel prize winner S.Y.Agnon's stories into German. Ruebner's early work in Israel took shape in German, the language he spoke to his lost beloveds and the language of Kafka, Hoelderlin, and Rilke, whose work he loved, a language that protected him from the overwhelming strangeness of his new land and life. He began composing poetry in Hebrew in the 1950s, beginning a life-long relationship with the newly-revived ancient tongue. The result: fifteen poetry collections in Hebrew, from The Fire in the Stone in 1957 to Last Ones in 2013, a poetic oeuvre that has received countless awards and accolades in Israel and Europe alike and has established Ruebner as an elder of the tribe.

Ruebner's poetry offers us an exquisite and indispensable voice of the twentieth century. His little sister, murdered in Auschwitz, and his youngest son, who disappeared in South America, wander unceasingly through his poems. Beyond the personal losses, the devastation of the century informs all of his work. Textual rupture and fragmentation echo historical rupture and fragmentation. The wonder of Tuvia Ruebner is that, after a lifetime of loss and tragedies, he remains open to the possibility of happiness. This openheartedness accommodates the many paradoxes and conflicts of life and infuses his poetry with an enduring and encompassing compassion for the lost and for the living alike.

Rachel Tzvia Back's graceful translations of select poems representative of Ruebner's seven-decade poetic trajectory are ever-faithful and beautifully attuned to the Hebrew originals, even as they work to create a new music in their English incarnations. Her comprehensive introduction and annotations supply the context in which these poems were produced. This first-ever bilingual edition, published as Ruebner marks his 90th birthday, gives readers in both Hebrew and English access to stunning poetry that insists on shared humanity across all borderlines and divides.
Praise For In the Illuminated Dark: Selected Poems of Tuvia Ruebner…
"As a bilingual edition, this volume makes an important contribution since so little of Ruebner's Hebrew poetry can be found in print."
—The Forward

 

"A large, generous collection of the distinguished Israeli poet Tuvia Ruebner's work. . . . In her illuminating introduction poet-translator Rachel Tzvia Back quotes Ruebner as saying that the loss of his sister remains for him 'the essence of grief and agony.' The untitled dedicatory poem closes: 'I'm still here and she's / gone.' One has the impression that all of Ruebner's poetry is an attempt at making sense of that unthinkable reality. Nonetheless, Ruebner, who alone among his family was able to leave Slovakia in 1941, does not want to be labeled a Holocaust poet. 'There is no connection between poetry and the Holocaust,' he [said]."
—Jewish Review of Books

"At 90, Tuvia Ruebner is probably the preeminent living Israeli poet you've never heard of . . . Anglophone readers (especially those who also read Hebrew) will find both this handsome book's bilingual presentation of Ruebner's selected poems, and his heart wrenching backstory described by translator Rachel Tzvia Back in her information introduction and endnotes, compelling reading."
—New York Journal of Books

"[Ruebner], surrounded by violence and loss for almost a century found comfort in his art of poetry. He has taught us that creating brings comfort, no matter how heartbreaking the subject matter. His words sing from the page rescuing beauty from the horror that has surrounded him. A master of German lyrical poetry in his early years he turned to writing in Hebrew with the same intensity and attention to detail. His poems, his journey, his life, are an inspiration. Rachel Tzvia Back noted Ruebner's attention to language, form and sound in her splendid introduction. She has with great success brought this attention to the English translations of Ruebner's Hebrew poems, no small task."
—Fox Chase Review

"Back's translations transmit the enormity and subtlety of the Hebrew poems slyly clothed in a mundane genre combining visual imagery and language. She sustains a discursive cadence that supports the outcry of the poems as well as intimations of irony, decay, and the perpetual ache of the loss overtly illuminated in Ruebner's early poetry. . . Thanks to Rachel Tzvia Back's remarkable achievement, this collection is a great celebration of Israeli poet Tuvia Ruebner's work."
--World Literature Today

"Tuvia Ruebner is one of the major Israeli poets of his generation, and an indispensable voice of modern Jewish experience. Like Paul Klee's angels, about whom he writes so beautifully, he comes to us 'entangled and honed, burgeoning inward.' His poems are postcards which seem to have arrived years after they were sent, yet they bear the immediate historicity and intimate lyricism of an elegy composed at the moment of loss. Brilliantly rendered into English by Rachel Tzvia Back, Ruebner's poetry continually reminds us of 'All this beauty / Despite despite.'"
—Norman Finkelstein, author of On Mount Vision: Forms of the Sacred In Contemporary American Poetry

"Ruebner's deeply felt, carefully made, utterly necessary poems, many of them broken-hearted elegies and devastating litanies, are balanced on the edge of an abyss. The losses keep rising up; they are impossible to repress. And yet, this cosmopolitan singer, this inheritor of the German lyric, keeps turning to art for consolation, to poetry itself, to the ancient act of making. What a great gift Rachel Tzvia Back has given us by bringing from Hebrew into English these mournful human poems, these guilty survivals, which look into the abyss and rescue beauty from oblivion."  
—Edward Hirsch, President, John Simon Guggenheim Memorial Foundation


"Ruebner's moving poems, beautifully translated by Rachel Tzvia Back, transform the dark matter of personal loss and history into cosmologies of light and clarity. They shine there besides those of his contemporaries, Amichai, Pagis, and Carmi. In a late poem Ruebner asks: 'what would we do with the hunger for the right words.' This collection is a profound and powerful answer. A marvelous gift has been given to us readers of English."
—Michael Heller, author of The Constellation Is A Name: Collected Poems 1965–2010
Hebrew Union College Press, 9780878202553, 396pp.
Publication Date: April 15, 2014
About the Author
Tuvia Ruebner is professor emeritus of comparative literature at Haifa University, winner of the Israel Prize, and translator of the works of S. J. Agnon, Goethe, Ludwig Strauss, and Friedrich Schlegel.

Rachel Tzvia Back is a poet, translator, and professor of literature at Oranim College.
or
Not Currently Available for Direct Purchase