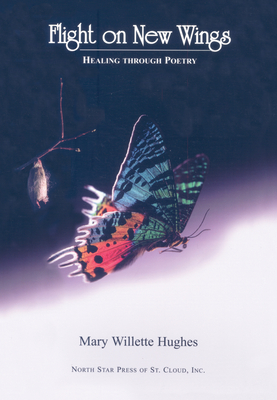 Flight on New Wings (Paperback)
Healing Through Poetry
North Star Press of St. Cloud, 9780878391967, 77pp.
Publication Date: July 1, 2003
* Individual store prices may vary.
Description
"Searing, startling, powerful, beautiful! I am stunned by this book! Mary Willette Hughes has distilled the shattering experience of sexual abuse perpetrated upon her son and her family by someone in religious authority. Fiercely honest, these poems are also reflections on trust, faith, and  beauty in the face of profound betrayal. These finely made poems express the intense feelings of a mother whose child must struggle with the damaging effects of sexual abuse and her relationship to the grown adult the violated child becomes. This unique book offers a deeply authentic healing journey with expert guidance provided in the therapeutic use of these poems through the techniques of poetry therapy." – John Fox, CPT, author of Poetic Medicine: The Healing Art of Poem-making, past president, National Association for Poetry Therapy (NAPT)
About the Author
Mary Willette Hughes, married to Mark, is a musician, teacher, poet, mother of seven, grandmother of twenty-two, and great-grandmother of three. She has had two books of poetry published, Quilt Pieces and Flight On New Wings. During the last ten years she has worked part-time for the St. Cloud Hospital's Recovery Plus program for addiction/recovery as a facilitator of poetry therapy and has given numerous presentations about poetry as therapy both locally and at national venues. In 2010 the National Association of Poetry Therapy presented her with a Public Service Award for her work at Recovery Plus. She has received two monetary Individual Artist Awards for her poetry, which were granted by the Central Minnesota Arts Board, the first in 1998, and again in 2010. She also received the Mother Benedicta Riepp Award from the Monastery of St. Benedict in 2010 for "exemplifying Benedictine and Gospel values" in her life. It wasn't until 1989, after their children were on their own that she discovered the world of writing poetry at age fifty-eight. After careers as a music teacher and working as an instructor for eighteen years at the Family Life Bureau in St. Cloud, Minnesota, a new vocation arrived. Poetry writing entered her world bringing a new passion and zest to her life as she attended creative writing classes and worked at learning how to write, to speak, and to sing in this new voice.