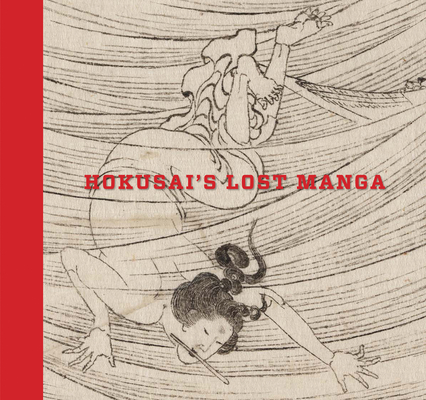 Hokusai's Lost Manga (Hardcover)
MFA Publications, 9780878468263, 248pp.
Publication Date: August 23, 2016
* Individual store prices may vary.
Description
Nearly 200 years after Hokusai finished the drawings for this charming illustrated book, this intriguing early Japanese manga is finally being published for the first time - thanks to a curator at the Museum of Fine Arts, Boston.
Rediscovered in an old box in the storage rooms of the museum, these Hokusai drawings should have been used to create the woodblocks for printing a continuation of his Manga series. But although scholars have found an advertisement announcing the title, there is no record of the book ever having been produced.
Ironically, if the book had actually been published, the drawings would have been destroyed in the woodblock cutting process. Instead, presumably after the decision was made not to publish the book, the drawings were folded and bound together. And so they stayed for nearly two centuries.
Author Sarah E. Thompson, Curator of Japanese Art at the Museum of Fine Arts, Boston, has studied the pages in depth for the first time, annotating them to help readers discover these drawings in Hokusai's own hand for themselves.
Although Hokusai is most famous today for the color woodblock prints that he made at the end of his life, he was best known during his own times as a popular book illustrator. Hokusai's Lost Manga includes the sort of lively, behind-the-scenes sketches of daily life that have made the Hokusai Manga so beloved, with appearances by imaginatively conceived sea creatures, refined flowers, heroes and a variety of craftspeople and laborers. Hokusai fans will find prototypes of many of the people and animals that populate the Japanese master's later landscape prints. The book also includes an especially interesting series of fabulous astrological deities may reflect Hokusai's practice of Nichiren Buddhism and his devotion to the Bodhisattva Myōken.
Hokusai: The Lost Manga will delight - and intrigue - admirers of Hokusai's prints as well as Manga collectors.
Artist and printmaker Katsushika Hokusai (1760-1849) made some of the most iconic images in Japanese art, such as the seminal woodblock print "Under the Wave off Kanagawa (The Great Wave)." Already influential in Japan, Hokusai inspired a new audience of budding Impressionists and post-Impressionists in the West upon the opening of Japan to Europe shortly after his death.
About the Author
Sarah E. Thompson is Assistant Curator for Japanese Prints at the Museum of Fine Arts, Boston.
or
Not Currently Available for Direct Purchase