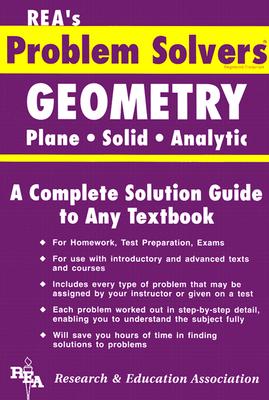 Geometry - Plane, Solid & Analytic Problem Solver (Rea's Problem Solvers) (Paperback)
Research & Education Association, 9780878915101, 1080pp.
Publication Date: December 31, 1978
* Individual store prices may vary.
Description
REA's Plane and Solid (Space) Geometry Problem Solver Each Problem Solver is an insightful and essential study and solution guide chock-full of clear, concise problem-solving gems. Answers to all of your questions can be found in one convenient source from one of the most trusted names in reference solution guides. More useful, more practical, and more informative, these study aids are the best review books and textbook companions available. They're perfect for undergraduate and graduate studies. This highly useful reference covers topics in plane and solid (space) geometry. Pictorial diagrams with thorough explanations on solving problems incongruence, parallelism, inequalities, similarities, triangles, circles, polygons, constructions, and coordinate/analytic geometry.
About the Author
Ernest Woodward, Ed.D., is professor of mathematics at Austin Peay State University, Clarkesville, Tenn. Founded in 1959, Research & Education Association is dedicated to producing the finest and most effective digital and print materials in educational publishing, including some of America's most popular test preps and study aids. REA's wide-ranging catalog is a leading resource for teachers, students, and professionals.