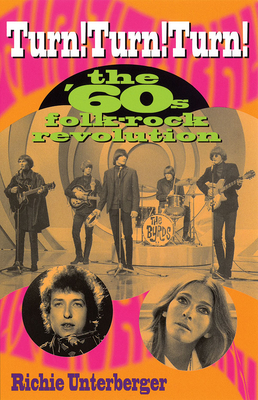 Turn! Turn! Turn!
The '60's Folk-Rock Revolution
Paperback

* Individual store prices may vary.
Description
Setting the scene with America's traditional folk of the early '60s, this book describes the sea of change that began in 1964 when the social consciousness of folk met the energy of rock. It concentrates on 1964-66, when the best, most popular, and most controversial folk-rock was created. The book explores the dizzyingly fast cross-fertilization of such giants as The Beatles, The Byrds, and Dylan; the passionate conflicts between folk devotees and folk-rockers; the sudden frenzy of the media; and the unforgettable music that was born. Turn Turn Turn also examines how folk-rock continued to influence late '60s psychedelic rock, country-rock and the British scene, as well as its gradual, partial transformation into the singer-songwriter movement. Based on first-hand interviews with such visionaries as Roger McGuinn, Judy Collins, Donovan, John Sebastian, Arlo Guthrie, Janis Ian and dozens of others.
Backbeat Books, 9780879307035, 304pp.
Publication Date: July 1, 2002