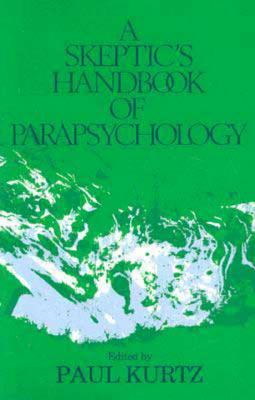 A Skeptic's Handbook of Parapsychology (Paperback)
Prometheus Books, 9780879753009, 727pp.
Publication Date: September 1, 1985
* Individual store prices may vary.
Description
A plethora of books has been published by and for those who support belief in psychic phenomena. Many people in modern society are convinced that paranormal realities exist. Old wives' tales and legends have been used for centuries to interpret these uncommon phenomena. A scientific approach is all too rarely considered. Can psychic phenomena and other "inexplicable happenings" be tested by methods of scientific verification?

A Skeptic's Handbook of Parapsychology is the first comprehensive collection of essays by many of the world's leading skeptics and parapsychologists. It combines a detailed history of parapsychology and psychic research with a broad view of the current status of the field.

Where does parapsychology stand today? Is parapsychology a science? Has ESP been demonstrated? Does psychic power exist? What do the skeptics have to say about the work of J.B. Rhine, S.G. Soal, the British Society for Psychical Research, and other research in parapsychology? How do they view such well-known "psychic" personalities as Eusapia Palladino, the Fox sisters, and Uri Geller? What are the skeptical evaluations of extrasensory perception, psychokinesis, ghosts, near-death experiences, life after death, poltergeists, "psychic detectives," and other paranormal claims?

Although a large majority of the essays have been written expressly for this volume, some classical skeptical pieces are included, such as the confessions of Margaret Fox Kane and Douglas Blackburn.

The contributors are predominantly skeptical of psychic claims, but some parapsychologists have been included to defend the parapsychological point of view. Among the twenty-nine contributors are Ray Hyman, C.E.M. Hansel, Martin Gardner, James Randi, James Alcock, John Beloff, Susan Blackmore, E.J. Dingwall, Trevor H. Hall, and Antony Flew.
About the Author
Paul Kurtz (1925-2012), professor emeritus of philosophy at the State University of New York at Buffalo and a fellow of the American Association for the Advancement of Science, was the author or editor of more than fifty books, including The Transcendental Temptation, The Courage to Become, and Embracing the Power of Humanism, plus nine hundred articles and reviews. He was the founder and chairman of Prometheus Books, the Institute for Science and Human Values, the Center for Inquiry, the Council for Secular Humanism, and the Committee for Skeptical Inquiry. He appeared on many major television and radio talk shows and has lectured at universities worldwide.
or
Not Currently Available for Direct Purchase