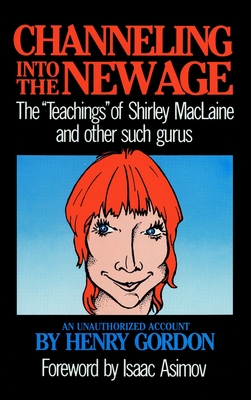 Channeling Into the New Age (Hardcover)
Prometheus Books, 9780879755034, 198pp.
Publication Date: September 1, 1988
* Individual store prices may vary.
Description
What exactly is the New Age movement? Why has it become the dominant force of the Zeitgeist, invading nearly every aspect of American life?
After years of researching this burgeoning movement, columnist, author, and magician Henry Gordon is one of the world's foremost experts on every aspect of the New Age - its derivations and content, the people most involved in it, the forces that motivate and prolong it, and the enormous amount of money changing hands as the "me" generation takes on astrology, crystals, runes, channeling, mysticism, yoga, acupuncture, herbal medicine, telepathy, precognition, clairvoyance, biofeedback, biorhythms, reincarnation, and every sort of psychological technique for heightened awareness.
At the forefront of the brouhaha is high-profile actress, lecturer, and free spirit Shirley MacLaine. This book is strictly unauthorized - a freewheeling and spirited roast of the New Age, including a history of trends leading to the movement (rooted in 19th-century occultism), and observations on the vast amount of coverage given to the movement (and to New Age celebrities) by the print and broadcast media.
Although Gordon delights in skewering the absurdities of the New Age, there's a serious emphasis to his research and his message: While the gurus are busy channeling into "new realities," they are becoming phenomenally rich without contributing in any significant way to the alleviation of human unhappiness - and very often, without making any sense at all.
or
Not Currently Available for Direct Purchase