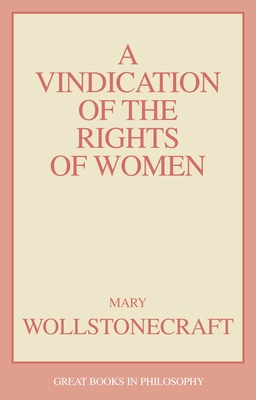 A Vindication of the Rights of Woman (Great Books in Philosophy) (Paperback)
Prometheus Books, 9780879755256, 206pp.
Publication Date: February 1, 1989
Other Editions of This Title:
Paperback (2/22/2019)
Paperback (12/4/2012)
Paperback (3/8/2014)
Paperback (11/7/2009)
Paperback (2/22/2019)
Paperback (9/1/2018)
Paperback (6/25/2018)
Paperback (10/14/2018)
Paperback (7/10/2014)
Paperback (5/29/2010)
Paperback (1/22/2019)
Paperback (5/10/2017)
Paperback, Large Print (11/4/2009)
Paperback (7/3/2010)
* Individual store prices may vary.
Description
The social revolution for women's rights has made great progress in recent years. But how many casual observers - or advocates, for that matter - are aware that the roots of this movement extend deep into Western history?

Even before launching the great campaign to attain universal suffrage, strong female voices spoke in favor of the social, political, educational, and economic rights of women. A Vindication of the Rights of Women, published in the late eighteenth century, is truly a classic in this venerable tradition. Railing against the stubborn social forces that confined women to an inferior station in the community, Mary Wollstonecraft declares war on the prevailing attitudes and customs that prevent women from realizing their individual potential.
About the Author
Mary Wollstonecraft (1759 - 1797), born near London, supported herself in her early years as a governess and as a school teacher. The political upheaval in France fired her interest, and she watched closely the events of the Revolution. Her first pamphlet, A Vindication of the Rights of Men (meaning all humanity), published in 1790, served as a spirited rebuttal to Edmund Burke's argument, in his newly published Reflections on the Revolution in France (1790). In that work Burke defended the hereditary principle of succession, the alliance between church and state, and rule by men "of permanent property." In 1792, Wollstonecraft published the highly influential A Vindication of the Rights of Women, advocating equality of the sexes. Her other published works include the novel Mary (1788) and Historical and Moral View of the Origin and Progress of the French Revolution (1794). In 1796, she married the English philosopher and dissenting minister William Godwin. Tragically, she died the next year after giving birth to her daughter, Mary Godwin (who would later become the wife of poet Percy Bysshe Shelley).
or
Not Currently Available for Direct Purchase