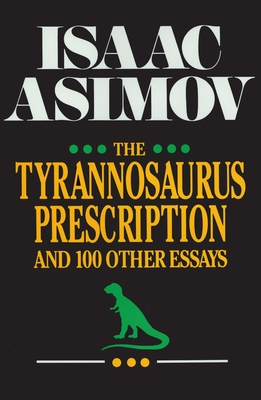 The Tyrannosaurus Prescription (Hardcover)
Prometheus Books, 9780879755409, 323pp.
Publication Date: September 1, 1989
* Individual store prices may vary.
Description
America's most revered science writer is represented here by one hundred and one previously uncollected essays and ruminations.

The Tyrannosaurus Prescription demonstrates the full range of Isaac Asimov's imagination: his lively discussions of science fiction, future space adventures, inner space discoveries, rediscoveries of our hidden past, and even what to do when the present state of the world is just too oppressive - his "Tyrannosaurus Prescription."

Asimov fans will find gems of every kind in this far-roving collection. The section on "Science" provides thirteen pieces on the planets; unstable atomic nuclei; Einstein, "the one-man revolution"; and dinosaurs.

"SciQuest" includes twenty of Asimov's best columns for SciQuest magazine, many of which vividly describe the inspiring struggles of great scientists - William Herschel, Michael Faraday, Joseph Henry, Ernest Rutherford, and others.

Asimov's awesome grasp of culture - ancient and modern - is on display in "Foreword by Isaac Asimov."

A special treat are two highly personal autobiographical essays, co-authored with his wife, Janet, that reveal the writer to be as eccentric as he is sane, as all-here as he is visionary.
About the Author
Isaac Asimov (1920-1992) was one of the most gifted and prolific writers of the twentieth century. He became legendary for his inexhaustible creativity, wide-ranging intellectual curiosity, and talent for explaining complex subjects in clear, concise prose. His incredible opus comprised almost five hundred entertaining and illuminating science fiction and nonfiction books.