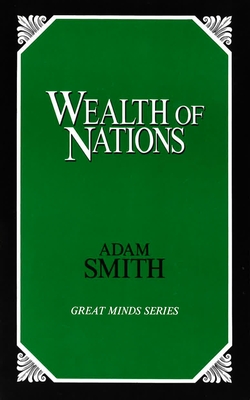 Wealth of Nations (Great Minds)
Paperback

* Individual store prices may vary.
Other Editions of This Title:
Hardcover (5/28/2007)
Paperback (4/27/2009)
Paperback (1/1/2009)
Paperback (12/27/2008)
Mass Market (3/4/2003)
Paperback (3/25/1982)
Hardcover (10/15/1991)
Paperback (6/1/2008)
Paperback (3/1/2000)
Paperback (6/17/2004)
Paperback (11/15/1993)
Description
Political economy had been studied long before Adam Smith. But Wealth of Nations (1776) established it for the first time as a separate science. Smith based his arguments on vast historical knowledge, and developed his principles with remarkable clarity. What set this work apart was its statement of the doctrine of natural liberty. Smith believed that "man's self-interest is God's providence" - that if government abstained from interfering with free competition, the invisible hand of capitalism would emerge from the competing claims of individual self-interest. Industrial problems would be resolved and maximum efficiency reached. After more than two centuries, Smith's work still stands as the best statement and defense of the fundamental principles of capitalism.
Prometheus Books, 9780879757052, 590pp.
Publication Date: December 1, 1991
About the Author
Adam Smith (1723-1790) was born in Kirkcaldy, Scotland, and began studies at the University of Glasgow. Three years later he entered Balliol College, Oxford, where he remained as a scholarship student until 1746. After leaving Oxford, Smith returned to the University of Glasgow to lecture on English literature and economics. The publication, in 1759, of his Theory of Moral Sentiments led to Smith's appointment as tutor to the third Duke of Buccleuch. In this capacity he lived for nearly three years in France, where he made the acquaintance of several of that nation's leading intellectuals, including Francois Quesnay, the physician and economist, and the renowned philosopher and critic of religion, Voltaire. Returning to Britain in 1766, Smith lived mainly in Kirkcaldy and London, working on his Wealth of Nations, which was published to great accliam in 1776. Adam Smith died in Edinburgh on July 17, 1790.
or
Not Currently Available for Direct Purchase