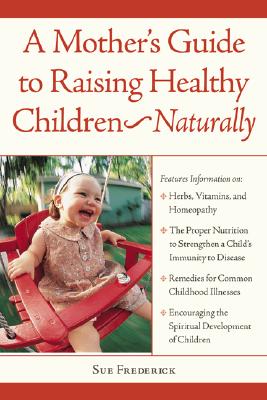 A Mother's Guide to Raising Healthy Children--Naturally (Paperback)
McGraw-Hill Companies, 9780879839260, 240pp.
Publication Date: December 1, 1999
* Individual store prices may vary.
Description
"A wonderful book for any mother interested in enhancing her child's health. Replete with natural and effective things to do for common childhood problems such as colds, fevers, sore throats, etc.; it is also an overview of the benefits that natural medicine has to offer you and your child . . . A great book to have on hand before and after your child arrives." -- Janet Zand, IAc, OMD, author of "Smart Medicine for a Healthier Child" and "Smart Medicine for Healthier Living" "Children may not come into the world with an instruction book, but Frederick's book is a good place to start to learn how to use foods, nutrients, natural medicines, and simple spiritual advice to raise a healthy, wise child." -- Dana Unman, MPH, author of "Homeopathic Medicines for Children and Infants" and "Everybody's Guide to Homeopathic Medicines" "A Mother's Guide to Raising Healthy Children--Naturally" provides the necessary building blocks for you to help your child thrive in body, mind, and spirit. Based on up-to-date, practical advice from top experts in the field of natural medicine, this essential resource will answer your questions and allay your concerns and fears about numerous health decisions-from the benefits of breast-feeding to the diversity of views about immunizations to natural approaches to common childhood illnesses. Sue Frederick has been an editor and writer in the natural products industry for many years. She is presently the editor-in-chief of HealthShop.com, an educational resource Web site dedicated to bringing helpful and scientifically accurate health information to the consumer.

or
Not Currently Available for Direct Purchase