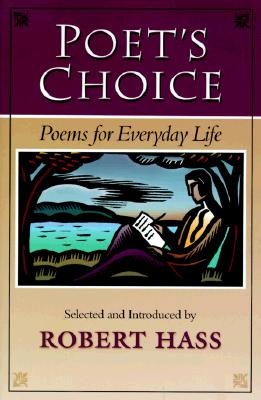 Poet's Choice
Hardcover

* Individual store prices may vary.
Description
When Robert Haas first took his post as U.S. Poet Laureate, he asked himself, "What can a poet laureate usefully do?" One of his answers was to bring back the popular nineteenth-century tradition of including poetry in our daily newspapers. "Poet's Choice," a nationally syndicated column appearing in twenty-five papers, has introduced a poem a week to readers across the country.
"There is news in poems," argues Robert Haas. This collection gathers the full two years' worth of Hass's choices, including recently published poems as well as older classics. The selections reflect the events of the day, whether it be an elder poet recieving a major prize, a younger poet publishing a first book, the death of a great writer, or the changing seasons and holidays. They also reflect Hass's personal taste. Here is "one of the most gorgeous poems in the English language" ("To Autumn" by John Keats): a harrowing Holocaust poem ("Deathfugue" by Paul Celan); and "my favorite American poem of spring" ("Spring and All" by William Carlos Williams). With a brief introduction to each poet and poem, a note on the selection, and insights on how the poem works, Robert Hass acts as your personal guide to the poetry shelves at your local bookstores and to some of the best poetry of all time.
Ecco, 9780880015660, 224pp.
Publication Date: March 1, 1998
About the Author
Robert Hass was born in San Francisco. His books of poetry include The Apple Trees at Olema (Ecco, 2010), Pulitzer Prize and National Book Award winner Time and Materials (Ecco, 2008), Sun Under Wood (Ecco, 1996), Human Wishes (1989), Praise (1979), and Field Guide (1973), which was selected by Stanley Kunitz for the Yale Younger Poets Series. Hass also co-translated several volumes of poetry with Nobel Laureate Czeslaw Milosz and authored or edited several other volumes of translation, including Nobel Laureate Tomas Tranströmer's Selected Poems (2012) and The Essential Haiku: Versions of Basho, Buson, and Issa (1994). His essay collection Twentieth Century Pleasures: Prose on Poetry (1984) received the National Book Critics Circle Award. Hass served as Poet Laureate of the United States from 1995 to 1997 and as Chancellor of the Academy of American Poets. He lives in California with his wife, poet Brenda Hillman, and teaches at the University of California, Berkeley.
or
Not Currently Available for Direct Purchase