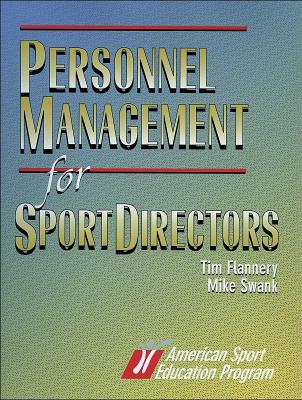 Personal Management for Sport Directors (Paperback)
Human Kinetics Publishers, 9780880117579, 176pp.
Publication Date: November 19, 1998
* Individual store prices may vary.
Description
If you handle any aspect of hiring, managing, or motivating staff, this unique resource can save you hours of frustration. Authored by two of the nation's premier athletic administrators, Personnel Management for SportDirectors is loaded with real-life examples of how athletic directors cope with problems in their sport programs.
Written specifically for practicing sport directors, this down-to-earth text shows you how to bring out the best in the people you work with. Part I provides practical guidelines for developing your leadership skills, helping you define your program philosophy, goals, and policies to build a strong foundation for your athletic program.
In Part II, you'll learn how to make the most of your people skills to help individuals develop their potential. The authors show you how to master the following techniques:
-Mentoring and educating people
-Communicating clearly
-Resolving conflicts
-Effectively interviewing and evaluating personnel
The section on management skills, Part III, gives you specific instructions for applying your skills in a variety of settings and situations throughout the calendar year. You'll find helpful guidelines and sample handouts for working with the distinct groups of people you deal with on the job:
-Student athletes
-Parents
-Coaches
-Officials
-Staff members
To save you time in planning, communicating, and record keeping, the authors provide lots of sample forms that you can copy or adapt--so you can focus less on paperwork, more on people. The authors also share true-life, personal experiences that show you how to apply your leadership, people, and management skills in the situations you encounter every day.
Take the stress out of managing personnel. Follow the practical guidelines in Personnel Management for SportDirectors, and tap the true potential of your staff and athletes.
About the Author
A former president of the National Interscholastic Athletic Administrators Association (NIAAA), Tim Flannery has spoken at local, state, and national conferences on topics such as leadership training, mentoring, recognition programs for student athletes, communicating with parents, and evaluating coaches. He developed the NIAAA's Mentoring Course as a part of their Leadership Training Program for athletic administrators, and he has conducted and assisted Leader Level workshops for the American Sport Education Program (ASEP) for over 200 coaches since 1989.Flannery's hands-on experience comes from 15 years administering the athletics program of a large suburban school district. During this time he served as tournament manager for Division I and II soccer and basketball tournaments; coached boys basketball and football; and planned, promoted, and conducted a drug awareness seminar. His numerous awards include the NIAAA Distinguished Service Award (1998), a National Federation Citation (1996), and recognition as the National Council of Secondary School Administrators' National Athletic Director of the Year (1996). Flannery completed his masters' work at Cleveland State University and post-masters' work at John Carroll University, Akron University, and Kent State University. He currently serves as assistant director of the National Federation of State High School Associations.As assistant principal of Bay High School in Bay Village, Ohio, Mike Swank has 11 years' experience as an activities/athletic director. He has developed programs and spoken at the local, state, and national level on the topics of sportsmanship, staff development, communication, and coaching education. He also served on the committee that developed the Mentoring Course for NIAAA's Leadership Training Program.Swank was formerly a member of the NIAAA publication committee and an editor for the Ohio Interscholastic Athletic Administrators Association's newsletter. In addition, he has been published at the local, state, and national level on topics covering sportsmanship, technology, media relations, staff development, and student leadership training. Swank completed his masters' work at the University of Dayton and post-masters' work at Cleveland State University. He taught social studies and coached football and basketball at the secondary level before entering the field of school administration.
or
Not Currently Available for Direct Purchase