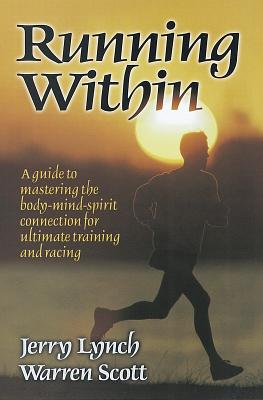 Running Within
A Guide to Mastering the Body-Mind-Spirit Connection for Ultimate Training and Racing
Paperback

* Individual store prices may vary.
Description

Runners know all too well the physical and mental challenges of their sport. Plodding for miles through inclement weather, rising before dawn to squeeze a daily run into a busy schedule, overcoming minor aches and lethargy that pose a threat to an active lifestyle, these are but a few of the familiar obstacles faced by millions of runners like you.
Running Within addresses the mental and physical factors of importance to runners and offers positive, practical recommendations for infusing the body, mind, and spirit with new energy and passion for running. It also provides solid information on training and racing. It will help you perform better, have more fun, and experience a deeper connection with running.
Written by top sport psychologist, best-selling author, and runner Jerry Lynch, along with physician and elite triathlete Warren Scott, this book presents prescriptions, tools, and strategies for runners to fulfill their potential. Included are:
- goal-setting guidelines,
- relaxation and visualization exercises,
- affirmation-building tips along with 63 examples,
- strategies for learning from setbacks,
- ways to take better risks,
- fatigue- and injury-coping strategies,
- motivation boosters, and
- prerace and race strategies.
Running Within will push your performance and enthusiasm to new heights. See how much better running can be with the body, mind, and spirit in synch and primed for every run you take.
Human Kinetics Publishers, 9780880118323, 216pp.
Publication Date: March 1, 1999
About the Author
" Jerry Lynch, PhD, is director of the TaoSports Center for Human Potential in Santa Cruz, California. A sports psychologist for more than 20 years, he has worked with many Olympic, national, and world champion runners. He himself was a U.S. regional and national champion distance runner. Lynch has published six books, including the perennial best sellers Working Out, Working Within, Thinking Body, Dancing Mind: Taosports for Extraordinary Performance in Athletics, Business and Life, which is available in five languages. These books have been used by athletes on the Chicago Bulls, Detroit Pistons, Cleveland Cavaliers, Houston Oilers, and numerous NCAA Championship teams, as well as by athletic programs worldwide. In addition to writing feature articles and contributing to the ""Medical & Training Advice"" column in Runner's World, he conducts and is available for prerace talks and coaching clinics throughout the United States. Lynch resides in Santa Cruz, California, and can be reached at the TaoSports Center by calling 831-466-3031 or e-mailing Taosports@aol.com.Warren Scott, MD, founder and chief of the Division of Sports Medicine at Kaiser Permanente Medical Center in Santa Clara, California, has over 14 years of experience in treating a wide variety of sport related ailments. Scott has conducted several research projects related to injury prevention and trauma control, has been a competitive runner since 1969, and has competed in hundreds of races and triathlons. He has not only served as a physician on the Ironman Triathlon Championship medical team but also completed the Hawaiian Ironman Triathlon himself in 1992. An accomplished writer, Scott has written articles featured in Runner's World, Triathlon, and Better Homes and Gardens and has written the popular column, ""Health Watch,"" in the San Jose Mercury News. He has authored numerous chapters in medical textbooks covering emergency and sports medicine and serves on the science advisory boards for Runner's World and Triathlete Magazine. Scott is a Fellow of the American College of Sports Medicine and currently resides in Aptos, California. "
or
Not Currently Available for Direct Purchase