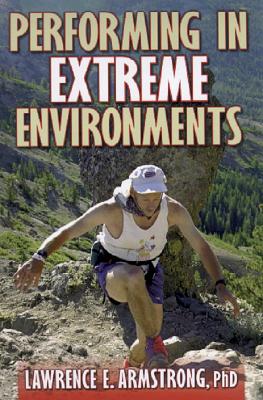 Performing in Extreme Environments (Paperback)
Human Kinetics Publishers, 9780880118378, 344pp.
Publication Date: October 1, 1999
* Individual store prices may vary.
Description
Counteract the perils of exercise in extreme environments with this thoroughly researched reference. Renowned exercise researcher Lawrence Armstrong, PhD, distills more than a decade of scientific study regarding exercise in hostile environments in this unique and valuable reference.
The only book of its kind in print, Performing in Extreme Environments explains how to maintain optimal health and fitness during work or exercise in a multitude of stressful environments. Numerous taxing environmental conditions are covered: heat, high altitude, humidity, air pollution, cold, windchill, day length, air ions, and underwater pressure.
Performing in Extreme Environments identifies:

-How body organs are affected in stressful environments
-Ways that physical factors alter exercise performance
-How medical disorders impact performance
-Tips to improve performance and avoid illness
Learn how adjustments in behavior, training patterns, eating habits, fluids, clothing, medications or the air mixture breathed can greatly impact performance.
This reference delineates how to recognize symptoms of such conditions as hyper- and hypothermia, dehydration, heatstroke, decompression sickness, jet lag, and high-altitude pulmonary and cerebral edema. It also provides emergency first aid recommendations. You can also determine hydration levels with a colored urine chart printed on the book's back cover.
About the Author
" Lawrence E. Armstrong, PhD, Fellow of the American College of Sports Medicine, is an associate professor in the Department of Kinesiology, Human Performance Laboratory, at the University of Connecticut. He received the Provost's Award for Academic and Research Excellence (1994), the Aerospace Medical Society's Environmental Science Award (1986), and the National Strength and Conditioning Association's Presidential Award for contributions to the NSCA Journal in Environmental Physiology (1989 and 1994). Since 1982, he has written more than 60 research articles for scientific journals and nearly 50 articles for educational and consumer publications. He also has contributed chapters to numerous books and has coauthored numerous articles for government technical reports.Armstrong likewise has ""hands-on"" experience relative to extreme environments. In addition to completing 14 marathons and climbing Mt. Washington three times, he has collected research data in the medical tent for the Boston Marathon and contributed to ACSM position stands on fluid replacement during exercise as well as on heat and cold illnesses contracted during distance running. He graduated cum laude as a scholar-athlete from University of Toledo in 1971 with a BEd in Biology and Comprehensive Science, earned a MEd from Toledo in 1976, and a PhD from Ball State University in 1983 as a student of David L. Costill. He is a past president with the New England Chapter of the ACSM and conducted numerous research studies as a physiologist at the Research Institute of Environmental Medicine in Natick, MA, from 1983 to 1990. Armstrong lives in Mansfield Center, Connecticut. "
or
Not Currently Available for Direct Purchase