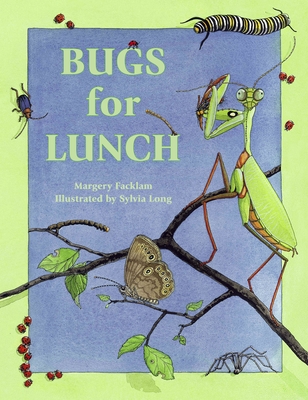 Bugs for Lunch (Paperback)
Charlesbridge, 9780881062724, 32pp.
Publication Date: February 1, 1999
Other Editions of This Title:
Paperback (7/1/2002)
* Individual store prices may vary.
Description
Discover the variety of bug-eaters—animal, plant, even human—in this exploration of both poetry and the natural world. Facklam's playful rhymes mixed with Long's vivid illustrations introduce young readers to an array of creatures as they munch on lunch. From a mantis perched and ready to prey on ladybugs, a spider trapping a fly, to the honey-drenched fur of a big brown bear chewing on a hive full of bees, Bugs for Lunch will give curious readers plenty of food for thought delivered in a playful package.
About the Author
Margery Facklam never gave much thought to eating bugs until she was served mealworm fritters and cricket tarts at a party at the Buffalo Museum of Science. After receiving a birthday gift of mealworm brittle, she was hooked and was inspired to write BUGS FOR LUNCH. Margery has authored more than thirty books, including THE BIG BUG BOOK (Little, Brown), and I EAT DINNER (Boyds Mills Press).