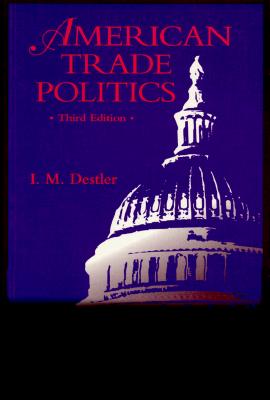 American Trade Politics (Paperback)
Peterson Institute for International Economic, 9780881322156, 337pp.
Publication Date: April 1, 1995
Other Editions of This Title:
Boxed Set (1/1/2000)
* Individual store prices may vary.
Description
This is an updated edition of the most influential and widely read analysis of the US trade policymaking system. In the third edition of this American Political Science Association's Gladys Kammerer award-winner for the best book on US national policy, Destler extends his original analysis to assess the politics of the extraordinarily contentious debates over NAFTA and the Uruguay Round. He explains how free traders overcame the opposing forces represented by H. Ross Perot, Pat Buchanan and Ralph Nader to secure congressional approval for the two most important US trade agreements in the postwar period. The liberal trade regime survived these latest challenges, but Destler nevertheless argues that there is a need for reform of the policymaking system in the 1990s to advance US-led free trade negotiations in the Western Hemisphere and the Asia Pacific as well as future rounds of global liberalization. Published jointly with the Twentieth Century Fund.
About the Author
I.M. Destler was a Visiting Fellow and Professor and Acting Dean (1994-1995) at the School of Public Affairs and Director of its Center for International and Security Studies. He was Senior Associate at the Carnegie Endowment for International Peace (1977-83) and the Brookings Institution (1972-1977); and Visiting Lecturer at Princeton University (1971-1972) and at the International University of Japan (1986).
or
Not Currently Available for Direct Purchase