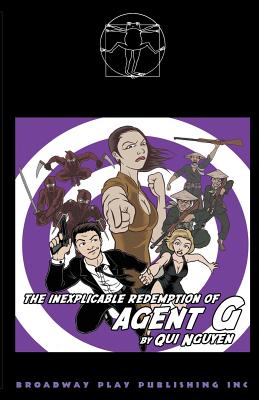 The Inexplicable Redemption of Agent G (Paperback)
Broadway Play Publishing, 9780881455342, 82pp.
Publication Date: November 26, 2012
* Individual store prices may vary.
Description
It's been 10 years since Agent G has last been in Vietnam where his family and friends were all viciously slain. He's now come back looking for answers and a good bit of revenge. However, mysterious forces are at hand trying to stop him as well as the playwright from finishing this brutal task. "Qui Nguyen's play is an ambitious entertainment about modern identity wrapped inside an exploitation drama about what used to be called the 'inscrutable Orient.' It gleefully mocks countless movies. In an impressive feat, the Vampire Cowboys become serious without giving up any of their silliness. A Critic's Pick " -Jason Zinoman, The New York Times "In the schizophrenic, wonderful THE INEXPLICABLE REDEMPTION OF AGENT G, the comet at long last returns, drawing Nguyen into profound metatheatrical self-examination. He can't stay serious for long - insights alternate with dance battles and the Vampire Cowboys' usual barrage of inside jokes. This confusion of gravities keeps the play fascinatingly off-balance: In its very wonkiness, we feel a playwright tearing himself apart to find his own first principles. AGENT G completes Nguyen's GOOK TRILOGY, an attempt (beginning with TRIAL BY WATER) at telling his cousin Hung's story ... The result is funny and weird and eye-opening." -Helen Shaw, Time Out New York.
Praise For The Inexplicable Redemption of Agent G…
"Ambitious Entertainment! Impressive! A Critic's Pick!" —New York TImes



"Wonderful! Funny! Eye-Opening! A Critic's Pick!"—Time Out New York



"Inexplicably Great!" —NYTheatre.com