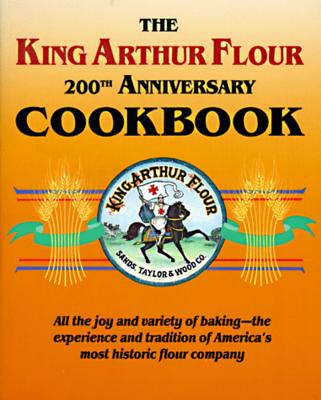 The King Arthur Flour 200th Anniversary Cookbook (Paperback)
All the joy and variety of baking-the experience and tradition of America's most historic flour company (King Arthur Flour Cookbooks)
Countryman Press, 9780881502473, 624pp.
Publication Date: September 17, 1992
* Individual store prices may vary.
Description
More than 100,000 copies sold!
The King Arthur Flour Company celebrated its 200th anniversary—and its rich legacy of baking mastery—by publishing its very first cookbook, a complete guide to the baking arts as only King Arthur can do it. A classic, this collection of delicious and nutritious breads, pastries, and desserts is yours again in the original handy binder format.
Now it's easier than ever to arrange recipes to suit your needs and to set out individual recipes while you create. This book will be your most trusted reference to all the traditional favorites as well as an inexhaustible treasure trove of baking inspiration and ideas.
Contents include:
     • Introduction & History
     • Pancakes & Popovers
     • Quick Breads & Muffins
     • Yeasted Breads & Rolls
     • Cakes & Crumbles
     • Cookies & Bars
     • Pies & Pastries
     • Pasta
     • Whole Wheat
     • Sourdough
     • Fun for the Young
     • Appendices & Index
"[A] marvelous, straightforward baking manual. Packed with recipes. Destined to be a classic."—
USA Today
"Jam-packed with recipes and information, this book will become a much-used baking reference in any kitchen. Grade: A+."—
The Cookbook Review.
About the Author
Brinna Sands is a member of the Culinary Historians of Boston, the American Culinary Institute of Wine & Food, and the International Association of Culinary Professionals. She also writes for The Baking Sheet, a baking newsletter produced by the King Arthur Flour Company.

King Arthur Flour is the largest single educator of bakers in the world. Employee owned since 1996, the company conducts a yearly national baking class tour that has provided free baking classes to many thousands of bakers across the U.S. The company also publishes The Baking Sheet, a newsletter of recipes and baking information. The Baker's Catalogue, a wholly owned subsidiary, sponsors an online baking forum, The Baking Circle, on its parent company's Web site. The company's 2003 release, The King Arthur Flour Baker's Companion, was selected as one of the best cookbooks of the year by Food & Wine, People, and many other national publications. Other books by King Arthur Flour include The Original King Arthur Flour Cookbook, The King Arthur Flour Cookie Companion, and King Arthur Flour Whole Grain Baking. All the bakers at King Arthur Flour work from their 12-sided post-and-beam headquarters in Norwich , Vermont.